John Gay
Born April 1, 1924, Whittier, California.
Videography
As writer
Apartment 3C (multiple episodes, 1949)
Mr. and Mrs. Mystery (multiple episodes, 1949-1951)
Hands of Destiny: "The Man Who Condemned Himself" (1951)
Shadow of the Cloak: "Check List" (1952)
Shadow of the Cloak: "The Swing of the Pendulum" (1952)
Hands of Destiny: "The Outsider" (1952)
Hands of Destiny: "What Doth It Profit" (1952)
The Ken Murray Show: "The Perfect Formula" (1952)
Lux Video Theatre: "Ferry Crisis at Friday Point" (5/19/52)
Trapped: "Black Death" (1952)
Trapped: "The Red Quill Murders" (1952)
Lux Video Theatre: "A Bouquet For Caroline" (2/9/53)
Armstrong Circle Theatre: "The Debt" (12/15/53)
The Stranger: "No Way Out" (1954)
The Stranger: "Money, Money Everywhere" (1954)
The Stranger: "Double Trouble" (co-teleplay) (1954)
The Stranger: "The Hunter" (1954)
The Stranger: "The Sacrifice" (1954)
Center Stage: "The Day Before Atlanta" (9/7/54)
Kraft Television Theatre: "The Devil as a Roaring Lion" (1/18/56)
Goodyear Television Playhouse: "The Sentry" (5/6/56)
Kraft Television Theatre: "Prairie Night" (7/25/56)
Playhouse 90: "The Day Before Atlanta" (4/9/59)
Playhouse 90: "Out of Dust" (from a Lynn Riggs play) (5/21/59)
Playhouse 90: "To the Sound of Trumpets" (2/9/60)
The Americans: "Harpers Ferry: 1961" (1/23/61)
The Travels of Jaimie McPheeters: "The Day of Leaving" (9/15/63)
The Travels of Jaimie McPheeters: "The Day of the First Trail" (9/22/63)
Espionage: "The Light of a Friendly Star" (11/27/63)
Chrysler Theatre: "The Fifth Passenger" (11/29/63)
The Travels of Jaimie McPheeters: "The Day of the Picnic" (2/16/64)
All My Darling Daughters (telefilm; teleplay only) (11/22/72)
My Darling Daughters' Anniversary (telefilm) (11/7/73)
The Chadwick Family (telefilm; teleplay and co-story) (4/17/74)
Things in Their Season (telefilm) (11/27/74)
The Red Badge of Courage (from the Stephen Crane novel) (12/3/74)
Adventures of the Queen (teleplay only) (2/14/75)
The Amazing Howard Hughes (telefilm; from the book by Noah Dietrich and Bob Thomas) (4/13/77)
Kill Me If You Can (telefilm) (9/25/77)
The Court-Martial of George Armstrong Custer (telefilm; from the Douglas C. Jones novel) (12/1/77)
Captains Courageous (telefilm; from the Rudyard Kipling novel) (12/4/77)
Les Miserables (telefilm; from the Victor Hugo novel) (12/27/78)
Transplant (telefilm; from the book by Philip H. Dossick) (4/17/79)
A Private Battle (telefilm; from the book by Cornelius and Katie Ryan) (10/7/80)
A Tale of Two Cities (telefilm; from the Charles Dickens novel) (12/2/80)
The Bunker (telefilm; from the book by Uwe Bahnsen and James P. O'Donnell) (1/27/81)
Berlin Tunnel 21 (telefilm; from the Richard Michaels novel) (3/25/81)
Dial M For Murder (telefilm; from the Frederick Knott play) (4/9/81)
Stand By Your Man (telefilm; from the book by Tammy Wynette and Joan Dew) (5/13/81)
The Long Summer of George Adams (telefilm; from the book by Weldon Hill) (1/18/82)
A Piano For Mrs. Cimino (telefilm; from the book by Robert Oliphant) (2/3/82)
The Hunchback of Notre Dame (telefilm; from the Victor Hugo novel) (2/4/82)
Ivanhoe (telefilm; from the Walter Scott novel) (2/23/82)
Witness For the Prosecution (telefilm; from the Agatha Christie play and the 1957 screenplay) (12/4/82)
Samson and Delilah (telefilm; from the book by Eric Linkletter) (4/1/84)
Fatal Vision (telefilm; from the book by Joe McGinniss) (11/18/84)
Doubletake (telefilm; from the William Bayer novel "Switch") (11/24/85; 11/26/85)
Manhunt For Claude Dallas (telefilm; from the book by Jeff Long) (10/28/86)
Six Against the Rock (telefilm; from the book by Clark Howard) (5/18/87)
Uncle Tom's Cabin (telefilm; from the Harriet Beecher Stowe novel) (6/14/87)
Inherit the Wind (telefilm; from the Jerome Lawrence & Robert E. Lee play) (3/20/88)
Around the World in 80 Days (miniseries; from the Jules Verne novel) (4/16/89)
Final Notice (telefilm; teleplay only) (11/29/89)
Blind Faith (telefilm; from the book by Joe McGinniss) (2/11/90)
Shadow of a Doubt (telefilm; from the 1943 screenplay) (4/28/91)
The Burden of Proof (telefilm; from the Scott Turow novel) (2/9/92)
Trial: The Price of Passion (telefilm; from the book by Clifford Irving) (5/3/92)
Cruel Doubt (telefilm; from the book by Joe McGinniss) (5/17/92)
Trick of the Eye (telefilm; co-teleplay, from the Jane Stanton Hitchcock novel) (10/23/94)
Summer of Fear (telefilm; from the Gloria Murphy novel) (4/3/96)
As executive story consultant
The Travels of Jaimie McPheeters (1963)
Feature Films: Run Silent, Run Deep (1958); Separate Tables (1958); The Happy Thieves (1962); The Four Horsemen of the Apocalypse (1962); The Courtship of Eddie's Father (1963); The Hallelujah Trail (1965); The Last Safari (1967); The Power (1968); No Way to Treat a Lady (1968); Soldier Blue (1970); Sometimes a Great Notion (1971); Pocket Money (1972); Hennessy (1975); A Matter of Time (1976); Golden Rendezvous (1976); plus uncredited contributions to How the West Was Won (1962); Mutiny on the Bounty (1962); and Texas Across the River (1966).
Introduction
John Gay's success as a screenwriter came so early, and comprises such an impressive list of films, that few people today think of him as a television writer. (The same can be said of the novelist Arthur Hailey, or of Gore Vidal.) Gay is responsible for the scripts of the movies Sometimes a Great Notion, Paul Newman's moving version of Ken Kesey's novel; The Power, Byron Haskin's spooky, downbeat science fiction study of telekinesis; and No Way to Treat a Lady, the dark serial killer comedy derived from a William Goldman novel. He shared credit with Terrence Malick on the screenplay for Stuart Rosenberg's cult movie Pocket Money, and did perhaps his finest work on Ralph Nelson's underrated Soldier Blue, an angry, thoroughly demythologized pro-Native American western that does little to disguise its allegorical critique of the U.S. aggression in Vietnam.
As a contract writer for either MGM or Burt Lancaster's production company Hecht-Hill-Lancaster, Gay's earliest screen credits included the sprightly comedy The Courtship of Eddie's Father, the western spoof The Hallelujah Trail, and the submarine picture Run Silent Run Deep. At the age of thirty-four, he was recognized with an Academy Award nomination for what was only his second completed screenplay, an adaptation of Terence Rattigan's play Separate Tables.
But before that accolade elevated him decisively into the ranks of highly paid screenwriters, Gay spent nearly a decade working exclusively in live television. During that time he moved up from the lowliest assignments conceivable – Gay turned to writing in the first place just so he and his wife would have some lines to utter during the daily sitcom in which they acted – into the prestigious dramatic anthologies that launched his contemporaries Rod Serling and Vidal.

A scene from Gay's early Civil War drama, "The Day Before Atlanta," as originally telecast on the summer replacement anthology Center Stage
Little of Gay's live television survives, but one of his extant works, "The Devil as a Roaring Lion," typifies his style and preoccupations at this stage of his career. The story concerns a twelve year-old boy (Van Dyke Parks) who finds a dying man (James Whitmore) in his family's boatshed. The wounded man, a prospector who has killed his former partner in a dispute over a mining claim, initially frightens the boy but becomes his benefactor: his treasure may convince the child's cruel, puritanical father from sending him away to school. By the end, it is clear that Gay's theme is the reaffirmation of faith. The final scene implies that the mysterious visitor may be an angel, and the father (E. G. Marshall, who subtly delineates his character's contradictions) recognizes the gap between his ostentatious piety and his un-Christian behavior.
Like Mark Twain's Tom Sawyer and Huckleberry Finn, "The Devil as a Roaring Lion" limits the audience's perspective to that which its young hero observes. Its setting, though it would work equally well in modern times, is a New England fishing village in the early 1800s. The nineteenth century would seem to be Gay's favorite. Most of his fifties television scripts have western or Civil War settings, an unusual specialty during the "kitchen sink" era of live drama. Like that of many of his contemporaries, Gay's anthological career climaxed on the prestigious Playhouse 90, for which he wrote one Civil War play (an expansion of an earlier hourlong script) and two that were set in the early twentieth century.
In 1963, Gay served as the initial story editor on a series that MGM developed from one of his unproduced feature scripts. The Travels of Jaimie McPheeters, based on a Pulitzer Prize-winning 1958 novel by Robert Lewis Taylor, was one of the most mature and unpredictable westerns of its decade. Gay's pilot script chronicled the formation of a wagon train in St. Louis, Missouri, in 1849. As in "The Devil Is a Roaring Lion," the action is seen primarily through the eyes of a boy, Jaimie (Kurt Russell), who joins the train with his father, Sardius McPheeters (Dan O'Herlihy), a doctor and an early practitioner of surgery who hopes to find gold in California (and to elude the bill collectors who chase him, literally, all over town).
The Travels of Jaimie McPheeters strove for a realism that was unusual on television. Early episodes sidestepped melodrama to focus on the quotidian chores involved in assembling a wagon train. Jaimie's sense of wonder at seeing the vast new landscape of the west for the first time (expressed in his whimsical first-person narration) lent the show a sunny, easygoing quality. When menace or violence did intrude, it was sudden and memorable. In the pilot, Jaimie fell off a paddleboat and into the clutches of a pair of cutthroats who sought to ransom him off to his father. It was an adventure very much in the manner of Mark Twain (with a villain, the orotund Brother John Morrel, by way of Dickens), but Gay's teleplay made it clear that these were true highwaymen who would kill the boy in an instant if it were to their advantage. This deftness in moving between the folksy and the savage was Gay's particular contribution to the series.

John Gay's innovation in The Travels of Jaimie McPheeters was to make Jaimie (Kurt Russell, right) the brains of the family, rather than his foppish dad (Daniel O'Herlihy). Jena Engstrom (left), seen here in "The Day of Leaving," was replaced by Donna Anderson after the pilot, the first in a long line of cast and crew to exit the troubled show's revolving door.
The second episode, also written by Gay, examined the difficult choices faced by the wagonmaster, Buck Coulter (Michael Witney). Coulter must ride herd over settlers who are often painfully naive about the ways of the wilderness, like the couple whose wagonload of "good Indiana brick," meant to form the foundation of their new home, is slowing down the train. When a troublemaker (John Davis Chandler) kills an Indian whose tribe wants revenge, Coulter is placed in the position of handing him over to the Indians or defending an attack on the whole train. Though the other men in the train are appalled by his decision, Coulter allows the Indians to torture the man to death.
Travels was most subversive in its undermining of paternal authority, which was probably one of the least questioned assumptions in the popular culture of the pre-hippie era. Gay made it clear that, though he was a scientist and a loving father, Sardius McPheeters was also a drunkard, a buffoon, a gambler, an easy mark for con men, and a dangerously unfit parent. In the pilot Jaimie's aunt entrusts the family nest egg to the boy rather than his father. Gay delighted in setups that allowed the son to come to the father's rescue, and doing so tactfully enough to avoid bruising Sardius' outsized ego. Though Gay disapproved of the casting of Dan O'Herlihy, whose stage-Irish routine could indeed be dreadful, the actor turned in one of his most nuanced performances as Sardius. O'Herlihy never sentimentalized the character's alcoholism or tried to charm the audience by making his prickly character more likable.
Doomed by low ratings, Gay's delicate creation suffered as abominable fate as any television show ever has. With surgical precision, ABC excised the elements that made Travels unique: the supporting cast gradually disappeared; the oafish Sardius was allowed greater dignity; self-contained stories supplanted the serialized development of Gay's storyline; and Charles Bronson joined the cast as a roughneck wagonmaster, a standard action hero indistinguishable from any other leading man. Worse still, in order to introduce Bronson's character as early as possible, the network broadcast the early segments featuring Gay's ongoing chronology out of sequence. Several episodes featuring the original wagonmaster, Buck Coulter, aired after the character had been killed off, with Jaimie's narration clumsily framing those stories as flashbacks. Four different teams of producers and story editors passed through the show's revolving door before ABC put it out of its misery at the end of a single season.1
The Travels of Jaimie McPheeters was the last television series with which John Gay would be associated, but after a decade's absence he would return to the medium as one of the top writers of what the industry trade papers called "longform." Between 1972 and 1998, Gay wrote more than three dozen made-for-television movies, most of them highly acclaimed. Gay adapted classics by Dickens, Verne, Hugo, Kipling, Sir Walter Scott, Harriet Beecher Stowe, and Stephen Crane into telefilms. He penned small-screen remakes of Shadow of a Doubt, Dial M For Murder, Witness For the Prosecution, and Inherit the Wind. Tommy Lee Jones played the title role in The Amazing Howard Hughes, one of the best-reviewed television movies of the seventies, and Anthony Hopkins won an Emmy for playing Hitler in Gay's The Bunker. Gay himself earned an Emmy for Fatal Vision, the story of convicted murderer Jeffrey MacDonald, as well as Edgars for that film and for two adaptations of fictional mysteries, Double Take and The Burden of Proof.
Today John Gay lives on a sloping street in Pacific Palisades where Ronald Reagan once had a home. (When the president was in residence, Gay and his neighbors had to pass through Secret Service checkpoints every time they came or went). Long-faced and lanky, Gay moved about with the energy of a man half his age, rummaging for scrapbooks and photos, gesturing animatedly as he spoke. His enthusiasm was contagious as Gay leapt from one anecdote to another, barely finishing each thought before plowing ahead with the exuberance of a trouper who spent years performing without a net in live television.
The Interview
How did you get started in television?
Well, first of all, television was brand new. The opportunities were such that, not only did nobody know anything about it, but they had to admit that they didn't know anything about it. Everything was wide open. The opportunities were enormous, enormous.
I started as an actor. I did five seasons of summer stock. My wife, Bobbie Gay, did three seasons of summer stock. And then I did two seasons of winter stock, so I really was going to be an actor. But you're going around New York, and television is coming in, and I said, "You know . . . ."
I'd been doing some audition material for us, writing it. That was the first writing I ever did: audition material. We did the audition material around, and Bobbie was getting into a couple of the Kraft Theatres, acting.
The advertising companies, they were the ones you went to to get into television. They controlled the show, not the networks. So I got something together that she and I might do as what you'd call today a situation comedy. Just the two of us – you couldn't afford anybody else.
We auditioned that for a couple of places, and a producer saw it. We went off to summer stock that summer, and during the summer stock season he says, "I've got an opening. I've got a ticket for you. WOR-TV is opening in New York, and you're going to be the second show.
I said, "What are we going to . . . ?"
And he said, "Well, you did that fifteen-minute sketch, you know. Why don't you do more of those?"
And I'm thinking to myself, "Oh, okay. Well, how many? When?"
"Oh, every night. For fifteen minutes."
Jesus! Every night for fifteen minutes, on at seven o'clock, WOR. So I tried to write some before the summer stock season closed. We were going to be going on the air in two weeks, and I had maybe about four or five weeks' worth. So, God, talk about chaos. We'd do the show, [and the] next morning I'd be writing, writing, writing. Do the show, writing, writing. I can't conceive of how I ever did all those fifteen minute shows for three months, writing those every night with the two of us.
We did that, and it was called Apartment 3-C. It was one of the first domestic comedies. What happened then, after a few weeks, I was going crazy writing those things. And the ratings, [after] we were on about two or three months, were going down a bit. I was getting dry, and they said, "How about changing the format to mystery, crime? Half hour, once a week."
Whew! Only a half [hour], once a week? I just leaped [at it]. So we went into a crime format. They called us Mr. and Mrs. Mystery. And there we were.
That's how I got into television writing, because I was writing those damn things. Half hour, once a week. We would get to hire maybe four or five actors. Not too many, so it wasn't too difficult to decide who the murderer was, because there weren't many to choose from! It's not like Murder, She Wrote, where you've got ten people. Believe it or not, we were on for two years doing this.
Would the show take a summer break?
Oh, no! There was no break. Every single week. There was no summer, winter, anything. God, it was – oh, you had to be young. I look back now and I say, "How did I do that?"
In the second year, we did get people to help. I did get other writers to come in. Different writers would come in, but we started the thing every time.
Of course, also, you had the problem of being live. Live TV! Oh, God, Bobbie and I, we used to remember, I'd write the half-hour script [for Mr. and Mrs. Mystery] and we knew all the lines, because if somebody was going to go up, we had to be there. And believe me, in the early days of television, the actors weren't used to this kind of thing. On our show, because we only had one day of rehearsal, we weren't like the Kraft Television Theatres, where they have a week [of] rehearsal. So we just learned everybody's lines.
We didn't go into rehearsal with the actors until the day of the show. Harvey Marlowe, our producer, would bring them in. We never met them; we went to rehearsal and we hoped they knew their lines.
Because it was a crime show, when the guy's supposed to [hit you], in rehearsal I'd say, "Not so hard, you know, I've got to do the show." And sure enough, he came into the show and knocked me out, almost. Those kind of crazy things.
One time, I'll never forget it, there was a key cigarette that the villain was supposed to put down and go out and leave on the desk. We got to the point where, whatever the line was: "Look, the cigarette!" I didn't have my glasses on and I couldn't tell whether the cigarette was there or not, but Bobbie knew right away that cigarette was not there. So we're ad libbing, two ad libs, three ad libs, four ad libs, and I was going to try to get around to it. And then I realized the guy didn't leave the cigarette. In fact, Bobbie said he was off-stage saying, "What should I do?" So faked something. I opened the door and I said, "My god, did you notice – was he in this room alone?" I pulled out a cigarette and tried to fake it.
When we were still doing our show [Mr. and Mrs. Mystery], we moved from the Ziegfeld over to the ABC studios, which were really a stable off Central Park. Next to us, through these big doors, was Robert Montgomery Presents. All live. Those people were doing [it] for the first time. They tried to get Hollywood actors, and they were doing televised [adaptations of] movies, like The Letter with Bette Davis. Those people that came out from Hollywood were terrified! I mean, they had never done anything like this before. And they had the most beautiful sets. We never had any kind of sets we could afford like those . . . .
Where was this studio?
It was around 60th [Street]. There were stables there, for horses, and they cleared out all the horses, cleared out all the smell, and ABC created studios there. Right off of Central Park West. They did some WOR shows and ABC shows there.
People on the street must have recognized you and your wife from Mr. and Mrs. Mystery.
Not very often, really. We lived down in the Village, on Perry Street. When we'd go somewhere we'd get on the subway. We didn't have any money! They didn't pay us hardly anything. We'd get on the subway and we'd be sitting there and people would look up [and whisper]. Stuff like that. But nobody ever really came up to us.
On Perry Street one day, Bobbie was alone, and a guy came and was going to mug her. And he stepped back, Bobbie said, and he says, "You're Mrs. Mystery!" And he turned around and ran off! I guess he thought maybe we knew the cops. We'd get calls at the end of that show – usually they'd call Bobbie – from some desperate [person who would] say, "Oh, my husband's going to kill me," or something or other. "Could you tell me, what should I do?" They believed us [in our roles]! Bobbie would say, "Call 911."
I see from this photo you showed me, the couple you played in the sitcom Apartment 3C lived at 46 Perry St., Apartment 3C. Did you use your actual address on the air?
That's right. That's where we actually lived at that time. But then when we got into the mystery [show] we moved across the river. We moved over to Demarest, New Jersey.
Tell me about your routine on a daily live show like that.
I would be maybe one show ahead. Sometimes not even that. We'd do a show, come home, I'm trying to talk it over with Bobbie: "What if we did this and that?" Because it was just two of us, mind you, nobody else. The next morning I would be at the typewriter, my little Royal portable, and write this down and sketch out that. An hour, two hours. She and I would go back and forth, back and forth, write it out, write it out. There would be scripts for the cameramen and people like that so they'd know when to cut [but] we had most of it in our heads. And then the next night, I'd come home, we'd talk it over and do the same thing.
And you'd rehearse in the afternoon?
In the afternoon we'd come in early. There were other shows going – WOR was the Ziegfeld roof. You know where they're doing The Lion King now? The theatre on top, that's where WOR had their shows at first.
A woman soprano from the Metropolitan Opera had a show afterwards. There was a variety show. WOR just opened up with everything. It was crazy.
But Mr. and Mrs. Mystery remained just a local New York show.
Yeah, it was local. Local, of course, WOR at that time, it went out to New Jersey, and went up to Westchester and all that. They had no network then.
Those days, we had two main sponsors. We got sponsors after about six months. We never got any of the sponsor money; it was WOR that paid us, very little. We got Ford, and beer – Miller's High Life Beer. I can still hear the [jingle], and they'd have me drinking the beer on camera.
During the show? Would you be a bit tipsy while performing?
Well, I told these guys I can't drink it before [the show]. If you drink warm beer – it was never cold – it makes you belch. I'd go through the show like that. So they said, "Well, drink it [at the end of] the show."
So you'd do the commercials as well as the dramatic part of the program.
I would do on-camera commercials, like drinking the beer or showing the Ford car.
Plugging the product was part of your job as an actor.
Listen, plug the product: when we did Lux Video Theatre, Florence Eldridge came out at the end of the [segment] with a mock dressing room: "I don't know about you, but I always use Lux Soap for my beauty needs." They did that. Great actresses would come out and plug the product. Because they [the sponsors] owned it: the networks didn't run it, the advertising agencies ran it.
Did the producer, Harvey Marlowe, also direct Mr. and Mrs. Mystery?
He did at first. Frank Wayne did a little bit. We needed a director, and he said, "Well, I can write one." And he did one or two. We knew him from summer stock. Frank came down and tried to get a puppet show going before the eight o'clock shows, and I think he did for a while at WOR or DuMont. He was a good actor, not anything special, but he was clever. He got on doing the stunts for Beat the Clock. Beat the Clock was the big game show then, and he got hired there by Goodson-Todman. He went into their other show, I've Got a Secret, and he was doing Goodson-Todman until he died. Made him rich. They would never give him a piece of the show, but they gave him so much money that he came out here and had a beautiful home in Beverly Hills.2
The guy who wound up producing and directing Gunsmoke eventually, John Mantley, directed a lot of the second year. WOR then put on a half-hour program in Italian because there was such a big Italian audience in New York. In Italian! John was directing it, and John didn't know what the hell they were saying. But he knew the movements, and he'd tell them to move there. And they loved John. They brought him over to Italy to direct two or three shows over there in Italy. He went there and stayed for about three or four years, met his wife there, and then finally came back here and wound up on Gunsmoke.3
We did that, and then when that show was over and finally we said goodbye I did another summer stock season. Bobbie got into some other shows, but I said, "You know, I think I could write a play for television." The one-hour anthologies [were my target]. And it's I wanted to get away from that stuff, you know, those crime things where you have lines like, "You'll never get away with it!"
So I wrote a show, a very human drama show, without cops and things like that. And son of a gun, I gave it to my agent then and she called me back and said Lux Video Theatre was going to buy it. I said, "Jeez, terrific, maybe I'm more of a writer than I think I am with these crime shows." She called me back three days later and said Fredric March and his wife, Florence Eldridge, who were big-time then, were going to do it. And I said to my wife, "You know, I love acting, but maybe there's something in this writing."
So I started and then I wrote another one. That's how I got into early television on the [anthology] shows. General Electric Theatre, and Kraft Television Theatre. All of those things in the early days, and they were wonderful. I've done a lot of movies since then, but those days were terrific, because they were like a play. You'd go in, you'd rehearse – I felt never [they] rehearsed long enough, but you rehearse for a week with the cast, and the director is there. You worked with him. It was just like doing a play and putting it on before a camera. The construction was like a play, because unlike film you can't clip here, clip there, have you in different clothes. They had no time for [costume] changes, so you had to write it almost like a play. It was terrific.
How I became a writer really was, I think, through the theatre. You do ten shows [in stock], and you are the lead one week and the butler the next. Sometimes you'd do Shaw and sometimes you'd do O'Neill. You do these plays and you get the feeling of the middle, of the end, and the feeling of the writing. And I think that's how I really built myself [so] that I could write, by doing all of those shows, from Desire Under the Elms to Pygmalion . . . .
So in your youth you were interested in acting, before writing.
Oh, yeah. I was from Los Angeles, and my mother took me around different places. She took me down to audition for [the 1938 film The Adventures of] Tom Sawyer, and I didn't get it. But I just loved the theatre, and I wanted to go to New York. I knew there wasn't much theatre here and I wanted to be an actor in New York. And that is exactly what I did after World War II.
What did you do during the war?
I was in the Coast Guard, in Sheepshead Bay. They booted me out in '45, and I headed as quickly as I could to the American Academy of Dramatic Arts.
So you never finished college?
Yeah. I had no college, none. When I got into writing, I got more and more into self-education. I said, I think I ought to have more than I have.
There can't be too many Academy Award-winning screenwriters who never went to college.
I don't know. I can tell you a famous one who never went to college, and he's a great writer, Ray Bradbury. I tried to collaborate with him once. It was a project for Hecht-Hill-Lancaster out here. I had been with them, they had just done Run Silent Run Deep, and they put me with Ray. The project was that book White Hunter Black Heart.
Ray is an original, but he'd never worked with anybody, and I'd never worked with anybody. I'd say, "Well, what about this?" And I'd make some notes.
He says, "You know, I've got to put all this down on paper. Then we'll come back, and then we'll talk about it." So when he came back, he was still incapable . . . of collaborating with me!
I said, "You know, I don't think this is working, Ray."
He says, "I don't either. I don't like this way of working with somebody." So we went to Harold Hecht or Burt Lancaster and told them it's not going to work, and they said that's okay. And they dropped the project anyway. It was made, finally, with Huston played by Clint Eastwood.
You said that your first script for Lux Video Theatre was the one that allowed you to segue into successful freelance writing. What was it about?
It was called "Ferry Boat Crisis at Friday Point," and it was about a ferry boat captain. This was my introduction to trying to do some serious drama. It was a comedy, too, but the idea I had was [that in] some river town in the midwest, in which the ferry boat goes back and forth for commerce, . . . the town decided to build a bridge. The ferry boat captain's son-in-law was going to bring everything up to date, and there would be no more use for the ferry boat, and the boat would be put out of business by the bridge. That was my [story], and it was played by Freddie March and his wife [Florence Eldridge]. It was directed by Fielder Cook.4
Do you remember the reaction to that first Lux show?
The reaction was so good that the producer [from the] J. Walter Thompson agency said, "We need another show in two weeks. Could you write me one and get it for me in two weeks?"
I said, "Yeah, yeah, I'll go home and think about it and call you up."
He called me up the next day and he says, "We need it sooner. We need it this week."
I said, "Jesus! But, all right."
So I stayed up all night long. I'll never forget. We were out in New Jersey by that time, and I wrote all night long. It was called, I think, "The Pink Parasol." I got an idea, wrote it, staggered up off the sofa. I wrote it on my typewriter, in my lap. Got up, had it finished, and took it in to J. Walter Thompson. The producer liked it: "Thank you very much. We can use this." Got in Fielder Cook again. Fielder Cook sat there and they started arguing. The whole thing was like a haze to me, because I was still out; I had been up all night. And I could hear them going back and forth, and back and forth. Fielder Cook didn't like it.
They didn't use it, but then I sold it anyway. Blanche Gaines sold it about four weeks later to Armstrong Circle or one of the others, those half hour anthologies.
After that one, I did one called "The Devil Is a Roaring Lion," with [director] George Roy Hill, and Jimmy Whitmore starred in it. There's a line of scriptures that the devil comes as a roaring lion, and in my play Jimmy Whitmore played an escaped convict. He had been accused of murder. He gets to a boathouse on the river, and this boy comes into the boathouse and sees him. He's afraid of him, because he's a stranger, but really he's a nice guy and he didn't murder anyone. They converse. It's warm, human, and at one point he wants to know, "Why are you so afraid of me?" And the boy says, "The Bible says, the devil comes as a roaring lion."
And [during the broadcast] the boy forgot the line! That's the name of the script, but he forgot the line! Jimmy Whitmore was trying to think of some way to bring it in, and he couldn't do it. Oh, God. Afterwards, the boy's mother was in the studio. She was distraught: "Oh, I'm sorry! Oh, he ruined your play!"
"No, no," I said, "It was played nicely." That's the thing with live TV. You didn't know.5
Tell me about the directors you worked with when you wrote for the live dramatic anthologies.
Some of those directors weren't so hot, but some of them [were terrific], like Sidney Lumet. He's the best director for a writer that ever lived. You would come in and he would say, "Watch this, you gotta watch this. Look what they [the actors] did with this scene. Watch! Do it again, do it again." He had such enthusiasm.
One time Sidney says, "I want to open this one with – now, it's a railroad scene – I want to have crickets!"
I said, "You can't do that."
He says, "Why?"
I said, "This is a Civil War play. This is two days before the Battle of Atlanta. There were no crickets in the wintertime! You've got to be authentic."
"Oh, shit."
That was the kind of fun [we had]. You know, you don't get that with motion picture directors too much. My first motion picture out here [was done by] Bobby [Robert] Wise, one of the great directors for motion pictures, [but] I never saw any direction like you get in theatre. Bobby never discussed character or relationships or anything. Of course, it was Run Silent [Run Deep], which is pretty standard [action material]. But he never discussed those kind of relationship things. It was camera here, camera there, and then we move in there. I can say the same thing about [John] Huston. I never saw him discussing relationships.

I did another Civil War play called "The Sentry." And this director hired a Hollywood actor who came in and was terrible. I came to rehearsal and I said, "Jesus, we've got to get rid of this guy." It's about the third day. And the actor was Lee Marvin.
He said, "I've got an idea. Let's put him in a Civil War uniform and give him a musket and have him rehearse with it."
Well, it was just a transformation! Suddenly he was better than anybody in the play! Suddenly he was that guy.
You seem to have been drawn to historical subjects.
Well, I loved Civil War plays. I really liked that period. I still have two Civil War features that haven't sold. Most of the historical stuff was in the Civil War period, but I did an early American thing, an on the farm sort of thing, with Martha Scott. That was the very first color show I did. It was an anthology and it was called "Prairie Night." That [title] was because I fell in love with the composer, the great American composer, [Aaron] Copland. I loved that "Prairie Night," which is a piece from his Billy the Kid Suite, and I just listened to that and the whole play came to me. So I said, "You've got to play that."
"No, we can't play that. We can't afford to play Copland on the air."
And I wanted to use Copland again on one about a dairy farm in Wisconsin, originally, and I said, "This is Copland." They said the same thing, "[No,] but we'll get it Copland-like." That was [with] Patricia Neal.6
You mentioned Blanche Gaines, a well-known agent who represented many of the important live television writers. How did you first get together with her?
You know, I swear to god I don't know, but I somehow got to her. The very first thing I got to her with was the "Ferry Boat" show. She was very supportive.
She had a stable of us, about twelve or thirteen writers. They were were all busy, and she was doing all right. She got our jobs going. All of us, my closest friend, Frank Gilroy, Rod Serling, [were a client of Gaines']. That's how I knew Frank, and that's how I knew the others of that group, like Rod.
So did Blanche's clients interact a great deal? Would you talk about your work with each other?
Not much, only the little teas that she would have. We'd go, and sometimes other people like [director] Dan Petrie. We'd just chat and talk about the business, and whatever. She was our Mother Hubbard. She had a lovely apartment there on 57th Street and Park Avenue.
Was it difficult making ends meet as a TV writer, even working for prestigious shows as you were?
Yeah. One year, I think it was Kraft Theatre that had a contest [in which] viewers [who would vote on] which was the best show of that year, with a $50,000 prize for the number one show. I came in second! I said to my [agent], "Jeez, you know, we're only getting paid, what, $800 or $900 for the show, and if only they could just take that money and give it to everybody, and just make it $1800 [each]. Just stretch it out." But it was a publicity stunt.
Do you remember what show won the prize?
Yeah. The show was called "Snapfinger Creek."7 Mine was called "The Day Before [Atlanta]." It was a Civil War play.
That came at a desperate time. We had some dinky apartment that we couldn't afford, so we were going to a place called Caliphon, New Jersey. We were going to go out there, out in the cow pasture like, and get a place there and try and hang on. I would write, and she would get a job. I had two shows I couldn't sell, couldn't sell, just when a summer stock job came in Arden, Delaware. I played one of the leads in Odets in Arden, Delaware, for that season. But I was not writing anything. I was starting to think about something to write.
I'd had an idea while I was doing the summer stock, for one of the live shows, "The Sentry," [about] a boy on a railroad track and three guys [who] are on a mission to blow up the tracks. It was very well received by the New York Times, but it was also seen by three guys in California, and the next morning they said, "Did you see that show last night?" One of them was Jim Hill [and the others were] Harold Hecht and Burt Lancaster. All three happened to see it [and they said], "Let's get this guy. Let's see," you know.
So now things were really going bad. When this one came out, I was ready to go out and live in New Jersey on this farm for the rent. And I get this call from Hecht-Hill-Lancaster, their story editor, and he said, "We've got a book here that we'd like to do, and we really liked your work. Would you be interested?"
And I said, "Well . . . . Oh, I might be."
So they sent this book. It was called Bandoola and, oh, God, it was awful.8 I just couldn't make anything out of it. They called me up again and said, "Well, did you read the book?"
I said, "Oh, yeah, very interesting, very, very interesting."
They said, "Would you like to come out and talk about it?"
And I said, "Oh, sure."
So they send me out there and I talked to the story editor about it and I told him I think you should do this and do that. I wrote a treatment that must have been a hundred pages. I wrote it here and then I wrote it in New York, because they were doing Sweet Smell of Success at that time in New York. I went back and forth.
Anyway, I wrote it and they said, "We can't shoot this! You have a Disney film here."
I said, "Well, that's the book. The boy and the elephant."
"Well, I don't know," they said, "I'll tell you what we'll do. We just picked up a property, and we'll put your salary in half. And if we decide to do this property, then we'll make it even." Because they were paying me a thousand a week. End of that project, which I didn't want to do anyway. That's how I really got started in the movies, but I did have all the early days of television first.
Why did you move out to L.A. for good?
The live TV was beginning to fade and we were all moving to California. We came out almost about the same time. It was so bad for Blanche when we moved out here. Rod was very close to her. She was a mother figure.
When we got out here, we had to break with her. She shared with an agent out here, a guy named Swannie, H. N. Swanson. He was a fabulous character. We finally wrote her and said, "You know, really, Blanche, we love you and all, but you're in New York and we're out here and Swannie's doing all the stuff."
So she took it pretty hard, and so did Rod, because they were so close. Rod wrote a show called "The Velvet Alley," with [Jack] Klugman . . . .
Yes, I've heard that. Klugman's character, a loyal, kind of low-rent agent who is betrayed by a rising star TV writer (Art Carney) he helps get started, was based on Blanche Gaines.
Do you know this story, how Blanche called us during the show? It was the middle of the show, because there was three hours' difference. She said, "Are you watching the show?" We said yeah. She said, "I don't want to spoil anything for you, but I die at the end."
Shortly after that, when I felt I was going to stay, [was] when they hired me for Run Silent.
Your film career was taking off, but you still found time to write scripts for the last of the great anthology series, Playhouse 90, which was produced in Los Angeles.
I did three of those. The first one was [when] Hecht[-Hill-Lancaster] were down shooting somewhere and I had some time off. I wasn't on any particular project of theirs, although I was being paid per week, and I was not exclusive. Herb Brodkin was one of the big producers in New York, and he called me and said, "Well, can you give me a Playhouse 90?"
I said, "You know, I've been kind of fooling around with a World War I play."
He said, "Do it."
So I wrote it. It was called "To the Sound of Trumpets." It had a great supporting cast: Judith Anderson, Boris Karloff. The leads were Dolores Hart, who became a nun superior later on, and a leading man actor who was in Ben Hur, Stephen Boyd. It was very well received. So they wanted me for another one, and another one.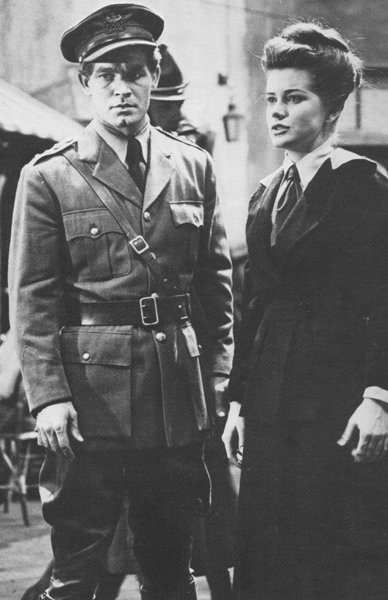 Stephen Boyd and Dolores Hart in Playhouse 90's "To the Sound of Trumpets"
This was done live here at CBS. It was wonderful to get back in that again, because you felt like you were getting back into the theatre almost. Although, you know what happened then was tape. Good tape was just beginning to come in. And on my second one, there was a scene in which it was a battlefield, very hard to duplicate in a studio. They said, "We can do it out at the farm on tape. We will use just that section, three or four or five minutes, and put it into the live show." And they did it. Then they did it again, and pretty soon tape became the shows instead of live.
"The Day Before Atlanta" was done as an hour [for Center Stage in 1954], and Ralph Nelson called me and he says, "Why don't we do it as a Playhouse 90? You can put it into ninety minutes?" I said, "Sure, there's a lot of stuff I can [add]." So I did it again as a Playhouse 90, with Ralph directing it.
"Out of Dust," I loved that. That was really an O'Neillian piece. That was written by Lynn Riggs, who wrote Green Grow the Lilacs. It was very dark, very much like O'Neill. They cast it with Uta Hagen, and Charlie Bickford again. I'd been down [in Mexico] with him and Huston when we did The Unforgiven.
This is what is wonderful about theatre actresses. On the first day of rehearsal, when they got the script, everybody likes the script and all of that. Uta Hagen comes up to me and says, "Could you do me a real favor?"
I said, "What can I do?"
She says, "This thing starts in my life at a certain point. Could you give me two or three pages on what happened to her all before the play begins?"
And I said, "Sure, let me think about it."
She said, "It really would be a help to me."
So that night I went home and I wrote the damnedest story of this woman before the play started. She came in and she was hugging me and kissing me.
Those things you just don't get in films, most of the time. I did one one time with Lee J. Cobb, in a film, a remake of The Four Horsemen of the Apocalypse. He was going, "I cannot do this, I cannot do this fucking speech! And I get up tomorrow morning and we're shooting at eight o'clock!"
I said, "All right, all right."
So I rewrote the whole speech. Come in the next morning, and I said, "I've got the speech."
He says, "No, I've worked it out in my mind. I can do it now."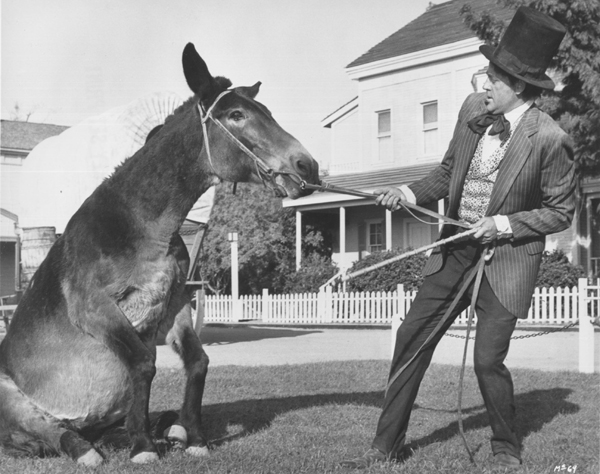 Gay's seriocomic western The Travels of Jaimie McPheeters was a struggle for everyone involved
After Playhouse 90, you had one important credit in episodic television, a show you developed and served as a story editor on called The Travels of Jaimie McPheeters.
That was just by a fluke. I wrote a western [feature] for them [MGM], The Travels of Jaimie McPheeters. Turns out it [would have] cost about $7 million. They wouldn't do it. Norman Felton said, "I think this could be a series."9 The pilot, really, in effect, was the first thirty pages of my [script]. This was an episodic screenplay, anyway.
You know, it was a big disappointment. They couldn't get [the right cast]. I wanted to get Burgess Meredith [for the Dan O'Herlihy role]. He would've been perfect, and they couldn't get him. We really – I said, "Beg him, beg him!" [But] he didn't want to leave New York.
Anyway, that's how that came about, The Travels of Jaimie McPheeters. I did [episodes] one and two. Richard Donner . . . directed it, and it went on, but it just didn't hit. Dan O'Herlihy was also in the World War I play, "To the Sound of Trumpets." Nice man, nice actor – he was not right for it at all. I guess maybe all writers have that [reaction]. If you want to know how good an actor is, have him do your stuff. Especially if it's a character that you have strongly in mind.
And you left Jaimie McPheeters before it went off the air?
Oh, yeah. Well, I was working at MGM, I went into whatever it was, the next picture at MGM.
The producer of the pilot died right afterward.
Robert Sparks – yeah, he did die. He's the one that brought in O'Herlihy, I think. But he was out before he died. It was floundering. It wasn't doing well.

The show was originally a kind of whimsical, day-to-day look at the old west without a lot of violence or melodrama, but it quickly became more conventional.
Well, they weren't about to do a father-son show. I loved the book, and it didn't do it justice. It was very difficult. Another major mistake, I think, is that I had the Kurt Russell character [do] total voiceover narrated, as the book is, first-person, the boy. And I had Russell do it. I think it would have been better if the man was older [i.e., the adult version of the Russell character narrated it], because it was looking back, and I think it would have had a better sense of theme.10
I think that your screen credits often keep you from being thought of as one of the generation of TV writers, but in fact you were very much a contemporary and a colleague of people like Rod Serling and Frank D. Gilroy. Were you close? Was there a rivalry there?
We all had such kind of rivalry going on, a friendly rivalry. The most successful one was Rod, back east, because he wrote a show called "Patterns," which was a big hit. Rod tells the story of when we were both sitting in the same office once, and they were reading our scripts and wondering which one of us they were going to call in. Carol and Rod became close friends when they moved out here. And Dick Berg. He was Rod's closest friend. We all came out around that time when Hollywood was taking over.11
Did you ever read and comment on each other's work?
Later on. Frank [Gilroy] would have a problem and he'd come out here and we'd go up the Canyon together. Or I would have some problem and we'd try and work it out. But not then, when we were young and struggling.12
Rod dictated; all his last work was dictation. I was always quick, but I couldn't do that. But then on the other hand I'm a very fast typist. I could always just get it down there. And I had to see it. I could never dictate; gotta see it. And he was just the opposite: "If I don't hear it, I can't finish the scene."
Rod was always on his own. I never did anything with Rod. He wanted me to do a Twilight Zone one time, [but] I'm not good for Twilight Zone. I found that out. I never turned it in. It was about a guy who got a shoeshine and never tipped. So all the shoeshine boys get together and do a thing on him, and it gets into the supernatural. I didn't like it. And I wasn't a Twilight Zone fan, close as we were. Rod really wrote some [other good scripts] – Seven Days in May and "Patterns," just brilliant, brilliant writing, [but] I think what it is, I'm not into the supernatural. I'm more in the Gilroy school. Relationships and stuff like that.
Notes
1 For the record, the original Travels of Jaimie McPheeters production team of Robert Sparks (producer), Don Ingalls (associate producer) and John Gay (executive story consultant) was succeeded by: Don Ingalls (producer), Joseph Calvelli (associate producer), and John Gay (executive story consultant); then by Boris Sagal (executive producer), Robert E. Thompson (producer), and Anthony Wilson (story executive); then by Boris Sagal (executive producer), Boris Ingster (producer), and Ardel Wray (story editor).
2 Frank Wayne (1917- ) was a pioneer in the game show field, the creator of the Match Game format and the original producer of the Bob Barker version of The Price Is Right.
3 John Mantley (1920-2003), also a former actor, wrote for The Untouchables and produced the final ten seasons of the long-running Gunsmoke.
4 Fielder Cook (1923-2003), a colorful Southerner known for his trademark white suits, was one of the top directors of live dramatic anthologies. He staged Rod Serling's "Patterns" for the Kraft Television Theatre in 1955.
5 The child actor in question was none other than Van Dyke Parks (1943- ), later a songwriter and composer famous for his collaboration with Brian Wilson on the Beach Boys' lost album Smile.
6 Many live television shows were scored by live off-screen orchestras.
7 "Snapfinger Creek," by William Noble, was broadcast on Kraft Television Theatre February 22, 1956.
8 Bandoola, by J. H. Williams, was a 1953 novel about a captive elephant and his Burmese rider. Hecht-Hill-Lancaster, briefly an important independent film production company during the fifties, was founded by the actor Burt Lancaster and the producers Harold Hecht and James Hill.
9 Norman Felton (1913- ) was the head of Arena Productions, a production company closely associated with MGM Television in the early sixties. Felton had no credited involvement with The Travels of Jaimie McPheeters.
10 More than two decades later the same kind of adult-reflecting-on-childhood narration was a key element of The Wonder Years.
11 Dick Berg was a live television writer who became a top producer of series (Checkmate, Chrysler Theatre), movies of the week (Wallenberg: A Hero's Story), and miniseries (The Martian Chronicles).
12 Playwright Frank D. Gilroy (1925- ) contributed to many live anthologies and created Burke's Law before his Broadway hit The Subject Was Roses elevated him from the ranks of TV writers.
All Text and Interview Copyright © 2007 Stephen W. Bowie