Anthony Lawrence
Born May 12, 1928, Hollywood, California.
Videography
As writer
Manhunt (at least one episode, 1959-1961)
Lockup (at least one episode, 1959-1961)
This Man Dawson (at least one episode, 1959-1960)
The Brothers Brannigan (at least one episode, 1960-1961)
Bonanza: "Dark Star" (4/23/60) [DVD]
Bonanza: "The Last Viking" (11/12/60) [DVD]
The Case of the Dangerous Robin: "Man in the Shadows" (11/22/60)
Bonanza: "The Rival" (4/15/61)
Bonanza: "Elizabeth, My Love" (5/27/61)
Tales of Wells Fargo: "Defiant at the Gate" (11/25/61)
Bonanza: "Gabrielle" (12/24/61)
Dr. Kildare: "Solomon's Choice" (story and co-teleplay) (3/29/62)
Bonanza: "Inger, My Love" (co-teleplay) (4/15/62)
Route 66: "Every Father's Daughter" (11/16/62)
Naked City: "Dust Devil on a Quiet Street" (co-teleplay) (11/28/62) [DVD]
Have Gun Will Travel: "Man in an Hourglass" (co-teleplay and story) (12/1/62)
Bonanza: "Marie, My Love" (co-teleplay) (2/10/63)
The Outer Limits: "The Man Who Was Never Born" (10/28/63) [DVD]
Bonanza: "Journey Remembered" (11/10/63)
Ben Casey: "Fire in a Sacred Fruit Tree" (11/20/63)
Ben Casey: "There Was a Man in the Land of Uz" (1/22/64)
The Outer Limits: "The Children of Spider County" (2/17/64) [DVD]
Ben Casey: "Make Me the First American" (4/1/64)
Slattery's People: "Question: Where Vanished the Tragic Piper?" (11/2/64)
The Long Hot Summer: "The Twisted Image" Parts 1 & 2 (10/7/65; 10/14/65)
The Fugitive: "Shadow of the Swan" (2/8/66)
The Long Hot Summer: "Crisis" (3/9/66)
The Rat Patrol: "The Life Against Death Raid" (9/19/66) [DVD]
The Rat Patrol: "The Do or Die Raid" (teleplay only) (10/17/66) [DVD]
The Rat Patrol: "The Two For One Raid" (1/16/67) [DVD]
The Rat Patrol: "The Delilah Raid" (5/1/67) [DVD]
Felony Squad: "The Love Victim" (co-teleplay and story) (1/25/68)
The Outcasts: "Take Your Lover in the Ring" (10/28/68)
Mod Squad: "Captain Greer, Call Surgery" (4/1/69)
Hawaii Five-O: "To Hell With Babe Ruth" (10/1/69)
Hawaii Five-O: "A Bullet For McGarrett" (teleplay and co-story) (10/29/69) [DVD]
Hawaii Five-O: "Killer Bee" (1/21/70)
Hawaii Five-O: "Three Dead Cows at Makapuu" Part One (teleplay only) (2/25/70) [DVD]
Hawaii Five-O: "Three Dead Cows at Makapuu" Part Two (3/4/70) [DVD]
Medical Center: "Junkie" (9/30/70)
Room 222: "Dreams of Glory" (11/25/70)
Medical Center: "Accused" (12/2/70)
The Young Rebels: "Unbroken Chains" (12/27/70)
McBride (unsold MGM pilot) (1970)
Hawaii Five-O: "To Kill or Be Killed" (1/13/71)
Gunsmoke: "Phoenix" (unsold pilot?) (9/20/71)
Rachel, Sweet Rachel (telefilm) (10/2/71)
Hawaii Five-O: "Two Doves and Mr. Heron" (10/12/71)
Cade's County: "A Gun For Billy" (11/28/71)
The Sixth Sense: "I Do Not Belong to the Human World" (1/15/72)
The Sixth Sense: "The Heart That Wouldn't Stay Buried" (1/22/72)
The Sixth Sense: "Face of Ice" (story only) (4/22/72)
Ghost Story: "At the Cradle Foot" (9/29/72)
Hawaii Five-O: "The Clock Struck Twelve" (teleplay only) (12/5/72)
Cannon: "Death of a Stone Seahorse" (1/17/73)
Ghost Story: "Legion of Demons" (2/2/73)
Marcus Welby, M.D.: "The Working Heart" (2/13/73)
Hawaii Five-O: "Death With Father" (1/22/74)
Doc Elliot: "The Touch of God" (1/23/74)
Kodiak: "Red Snow, White Death" (9/13/74)
Ironside: "Raise the Devil" (2-hour season premiere; co-teleplay and story) (9/19/74)
Planet of the Apes: "The Deception" (co-teleplay and story) (11/1/74) [DVD]
Archer: "Blood Money" (3/13/75)
Swiss Family Robinson: "Jean Lafitte" Parts 1 & 2 (1975)
The Blue Knight: "Odds Against Tomorrow" (co-teleplay) (12/31/75)
Stranded (unsold Universal pilot) (5/26/76)
The Quest: "Welcome to America, Jade Snow" (11/24/76)
Gibbsville: "Chautauqua, Chautauqua, Chautauqua" (1976)
Quincy, M.E.: "…the Thigh Bone's Connected to the Leg Bone" (co-teleplay) (2/11/77) [DVD]
Flight to Holocaust (telefilm; co-teleplay) (3/27/77)
The Streets of San Francisco: "Breakup" (5/12/77)
Rafferty: "The Narrow Thread" (story only) (10/3/77)
Columbo: "How to Dial a Murder" (story only) (4/15/78)
Elvis (telefilm) (2/11/79)
The Phoenix (pilot telefilm) (4/26/81) [with Nancy Lawrence]
Jessie: "In the Line of Duty" (co-teleplay) (11/13/84) [with Nancy Lawrence]
Lady Blue: "Beasts of Prey" (10/10/85) [with Nancy Lawrence]
Lady Blue: "Portrait of Death" (11/23/85) [with Nancy Lawrence]
Dark Mansions (telefilm; shared credit) (8/23/86) [with Nancy Lawrence]
The Twilight Zone: "Song of the Younger World" (7/17/87) [with Nancy Lawrence]
Liberace (telefilm) (10/2/88) [with Nancy Lawrence]
As story editor
The Sixth Sense (1972)
As producer
Elvis (telefilm) (2/11/79)
The Phoenix (pilot telefilm) (4/26/81) [with Nancy Lawrence]
Jessie (1984) [with Nancy Lawrence]
Lady Blue (1985-1986) [with Nancy Lawrence]
As creator
Kodiak (1974) [with Stan Shpetner]
As actor (some as "Mitchell Lawrence")
Dragnet: "The Big Kill" (12/3/53)
Dragnet: "The Big Check" (5/6/54)
Dragnet: "The Big No Rain" (9/15/55)
The Adventures of Rin Tin Tin: "Rusty Volunteers" (9/30/55)
Death Valley Days: "The Hidden Treasure of Cucamonga" (11/5/56)
Studio 57: "The Blue Wall" (12/2/56)
On Trial: "The Jameson Case" (12/14/56)
Playhouse 90: "The Massacre at Sand Creek" (12/27/56)
Fireside Theater: "Harbor Patrol" (4/23/57)
Fireside Theater: "Night of Terror" (5/14/57)
M Squad: "Matinee Trade" (11/8/57)
Dragnet: "The Big Excuse" (2/27/58)
Wagon Train: "The Daniel Barrister Story" (4/15/58)
Dragnet: "The Big Picture" (4/21/59)
Feature Films (as writer): Roustabout (1964) [WGA Award nomination]; Paradise, Hawaiian Style (1966); Easy Come, Easy Go (1967).
Feature Films (as actor): Destry (1954); River of No Return (1954); The Ten Commandments (1956)
Introduction
Anthony Lawrence was a commercial television writer who moved nimbly among all the genres that were popular in prime time: westerns, cop shows, doctor dramas. He specialized in eluding the cliches inherent in such assignments, in finding a novel hook or creating a fully dimensional character to add sparkle to shows that gravitated toward weekly monotony.
Lawrence's first Rat Patrol script, for instance, turned on a clever gimmick: the heroes pose as Nazis to infiltrate an enemy hospital, only to come upon a German general (Albert Paulsen) who's shell-shocked and accuses everyone of being a spy. Now that he's hit on the truth, will anyone listen to him? The show's producer, Stan Shpetner, liked Lawrence's tight little suspense piece enough to use it as the sample he screened for other prospective writers.
Another polished effort, for Mod Squad, "Captain Greer, Call Surgery," found room in fifty minutes for an undercover hospital sting, a father-son reconciliation, racial politics, mini-romances for two of the leads, and the fine character actor Edward Andrews as a malevolent funeral director-cum-drug pusher. It also hit upon the basic idea of dramatizing the illegal drug trade through intertwined stories of users, dealers, and cops that would later structure the British television miniseries Traffic. "Captain Greer" wasn't great television, but Lawrence understood that throwing in everything except the kitchen sink was one way of tap-dancing around Mod Squad's moral and creative bankruptcy. It was an assignment, Lawrence told me, that he took just for the money.
If Lawrence had little regard for the Aaron Spelling schlock factory, he was far more enthusiastic about science fiction and fantasy, a genre that recurs throughout his credits. He created, in the form of a made-for-television movie script, the ESP drama The Sixth Sense, then watched as Universal's tinkering mutated it into something with little critical or commercial appeal. Lawrence also wrote for Ghost Story, Planet of the Apes, and the 1980s version of The Twilight Zone. He collaborated with Hammer film veteran Jimmy Sangster (The Curse of Frankenstein) on an occult-themed Ironside segment, co-created a short-lived series about a superhero (The Phoenix), and even worked with director George Pal on an adaptation of Olaf Stapledon's cult sci-fi novel Odd John. Though that film was never made, the project remains a topic of curiosity among fantasy film enthusiasts.
If the accretion of these assignments wasn't coincidence, it's probably because Lawrence owed some of them to an hour-long teleplay that has become his claim to fame, the beloved 1963 Outer Limits segment "The Man Who Was Never Born." This convoluted time travel yarn propelled the hideously deformed Andro (Martin Landau), a librarian in a disease-ravaged future, back to the present day to kill a scientist who would one day engineer the destruction of the human race. But the heart of "The Man Who Was Never Born" is the fervent, forbidden romance between Andro and a young woman, Noelle (Shirley Knight), who turns out to be the mother of his intended victim. Typically, Lawrence's sensitivity extended beyond the lovers to his putative villain, Noelle's brutish fiance (John Considine), who by the end of the show has become a wholly sympathetic character, staring forlornly at the spaceship that has whisked away his beloved.
Though its ending is bittersweet, "The Man Who Was Never Born" has a beatific sort of philosophy: it's the story of a man who seeks to change history through violence and ends up doing so by falling in love. Lawrence's teleplay added an essential note of optimism to the dark vision of The Outer Limits' producer, Joseph Stefano, whose bleak fever-dream melodramas set the show's tone. Lawrence told writers David J. Schow and Jeffrey Frentzen that "I wanted to do a romantic fairytale. I wanted to touch people emotionally, with a kind of lyrical, poetic thing that not too many people were doing in TV."1
(A second Outer Limits script, in which Lawrence revisited the conflict between destiny and romance, came out less memorably. "The Children of Spider County" threw together an incoherent miscellany of science fiction ideas, and wordy dialogue like "We can hear the silent sigh of a star" sounded foolish coming from the show's second-string cast.)
Lawrence wrote "The Man Who Was Never Born" at an early peak in his career. He had gotten in early on Bonanza, contributing a first season story called "Dark Star" that was made by Susan Harrison's sexy, weird performance as a feral gypsy girl who believes she is jinxed. (The ethereal, beautiful girl as doomed outsider was a character archetype Lawrence would revisit again and again, in The Fugitive's "Shadow of the Swan" and Route 66's "Every Father's Daughter," among others.) Executive producer David Dortort, who made a project of discovering and nurturing neophyte writers, entrusted Lawrence to create a series of scripts that filled in key bits of backstory for Bonanza's regular characters.
Turgid in content but secure at the top of the Nielsen surveys, Bonanza was a plum credit that opened the doors for Lawrence to critically lauded television series like Ben Casey, Slattery's People, and The Fugitive. Unburdened by ego, Lawrence enjoyed the mentorship of more seasoned talents like Stefano and Naked City's crusty story editor, Howard Rodman. The legendary live television writer completed a script on which Lawrence had become blocked, a tale of a homicidally unstable aspiring actor called "Dust Devil on a Quiet Street." Much of the show takes place in a Greenwich Village acting class, an unusual milieu which Lawrence explored in greater detail than a typical cop show would have permitted.
The improvisatory exercises depicted in "Dust Devil" feel authentic, and that's undoubtedly because Lawrence had himself spent much of the fifties as an aspiring actor in Los Angeles. He was one of a number of struggling performers who turned to writing as a natural result of making the rounds of low-budget TV productions. Auditioning with lines from a hackneyed Death Valley Days script, one couldn't help but get the notion: Perhaps I could write something a little better than this? The same idea occurred to many of Lawrence's contemporaries, from journeymen like Oliver Crawford and Steven Ritch to future Oscar winners Alvin Sargent and John Gay. All of them were failed actors who evaded starvation by migrating to the fertile plains of television scripting.
As Tony and I discussed his early years in front of the cameras, I realized his acting credits included an episode of Lee Marvin's terminally deadpan detective show M Squad that I had seen not long before. The show's on-screen titles listed Lawrence's name, but not the role he played.
"Do you remember who you were in the show?" I asked.
He didn't, really.
"What do you look like?"
A description followed. I pulled the tape while we were still on the phone. Immediately, paydirt: The show opens with a seedy-looking character in a huge white fedora slinking down a backlot street.
"Is this you?" I asked. "I think he's supposed to be a bookie."
"I looked like a bookie," offers Tony.
It's him: a slight, long-faced man, older-looking than his twenty-nine years. So I watch the fuzzy tape of Tony Lawrence, a day player in 1957. Not even, a half-day player. His big scene is in a sparsely dressed casino set, with walls that look like they'll fall over if anyone leans on them. M Squad was a Revue Production, which means that Lawrence filmed his scene in some corner of a soundstage on the studio's Radford Street lot in Studio City, an L. A. suburb that doesn't look much different now than it did then. What went through his mind that day? Was he cringing at the stupid hat they made him wear, thinking he'd never make anything out of this bit part with that thing perched on his head? Was he wishing he could change his lines to something better that he'd just thought of? Did it occur to him that day to see if his agent might be able to get a script by an unknown actor to someone, anyone, even the producer of one of those schlocky two-day shows that Ziv Productions cranked out to fill up the dinnertime hours in these days before reruns?
The Interview
Where did you begin your TV career?
I started at Ziv. That was one of the earliest studios for filmed television. They just did half-hour shows like Men in Space and Manhunt, which I worked for. The first one I did was This Man Dawson. I had done a rewrite for them.
I was originally an actor. I had different names at different times. I was in the habit of changing my name [laughs], so I worked under Mitchell Lawrence, as well as Tony Canon, as an actor. I did a couple of features as Mitchell Lawrence. One was Destry, with Audie Murphy. I did Playhouse 90, Studio 57, Dragnet, a lot of those shows in the early days, as well as the theatre. I had started in the theatre.
I was one of those young people who played older men. I was not a standard, good-looking, studio contract player. I was not that type; in fact, I still am not. Now I could play the parts that I used to play when I was in my twenties, without any makeup. But, actually, that's how I got started. I was doing a play at the Players Ring Theatre, which is a small theatre in West Hollywood, where I met my wife. She was an actress too, and we're still married after fifty years. I was working there in a play called Dark of the Moon,2 in which I played an old backwoods preacher. An agent named Myron Mishkin, who handled a lot of the big character actors at the time, like Lee Marvin and Charles Bronson, people of that stature, came to see the play and left me his card to come see him.
When I went to his office and walked in, he said, "Who are you?"
I said, "Well, you saw me in a play . . . ."
He said, "Oh, my God, I thought you were an old man."
I said, "That's testimony to my good acting."
He said, "Well, I don't know what I could do with you. You're too young to play those parts [in the movies], and you're not a leading man type."
To make a long story short, he decided that he would see if he could get me some work. He got me parts here and there. So I went on and on as an actor, with ambitions to remain an actor, and my wife (who was not my wife at the time) wanted to get married. I saw very little opportunity to be successful as an actor, and she encouraged me to start writing.
A lot of actors, at that time, were beginning to start writing, and some were beginning to make it. So I started writing, and I wrote for about three years, or close to that, without anything really happening, until an agent, Rick Ray, who was at MCA, read some of my material and decided to sign me on as a client. I began to push the spec scripts that I had written around to different studios and he finally got me a rewrite at Ziv, on This Man Dawson. I did the rewrite, they liked it, and I got signed to do a "multiple," which was three episodes of a half-hour show. From there I did a couple of the other Ziv shows, like Manhunt, and I did a story for Adventures in Paradise, because my cousin was the story editor, Robert Dillon.3 Mine never got made.
Then I got a big opportunity. I got an interview with David Dortort, who was the creator/producer of Bonanza. This was about 1959.
Bonanza would have just debuted that fall.
Just started, right. And it was the first color television [western]. I went there not expecting anything to happen, because I was going to pitch kind of an offbeat idea to Dortort. I didn't think he was going to buy it for one minute, and he did, to my surprise. It had certain things about witchcraft in it, and real offbeat things in it that weren't really [typical for] a western. But he liked it. I wrote it, and it was called "Dark Star."
I went on to write about a dozen more Bonanzas. I wrote the three episodes that revealed who the mothers were of the three sons. Because you had three sons who all looked different, they decided that we would do some episodes that would show how that came about – that Ben Cartwright had married three times. I wrote those three, and a number of other episodes.
It was very good for me, because David Dortort really enjoyed doing things that were different. None of the ones that I wrote were anything that you would consider standard westerns. They were more character stories.
Bonanza did those flashback shows as an annual event for three years.
Yes, exactly. It was David's idea in the beginning to call the first one "Elizabeth, My Love." I wasn't thrilled with that title. At any rate, it was fun to do because I got a chance to get out of the western arena, and I did a kind of a flashback to a time when Ben Cartwright was a sea captain. It was all about boats and sailing, and the daughter of a sea captain who became his wife. That was Adam's mother, Elizabeth – the oldest son. Later on we did another story about Little Joe's mother, who built a place in New Orleans. It had sword fights and dueling and that sort of stuff. The last one had to do with Hoss's mother, and that was somebody he met and went cross-country with in an early wagon train. So it kind of just hooked them all together and gave a little more depth to the series, and a little more about Ben Cartwright's life.
Even though you were personally associated with that series of flashback episodes, you shared credit on two of them.
That's right. I don't remember exactly what happened. Either I didn't hit it right, and they called in another writer to give it a little bit of a change, or, as I recall vaguely, I started working on some other shows. I think that's probably what it was, I had done a draft or something and then I had to work on this other show, and David said, "Well, let me bring in another writer and we'll finish it up." That happens sometimes. Back then, there was a standard amount of money you could earn on hour shows, and it stayed at $4500 for many, many years. Today it's like $28,000 for the same hour show! But there was a kind of a ceiling that we went to for, oh, twenty years.
So you couldn't earn more than $4500 for a script, even if you kept rewriting it?
Well, you could earn more if you kept rewriting, if they were willing to pay more. A lot of times they weren't willing, so they would call in either somebody on their staff to redo it or somebody they had another deal with. But at that time, I had to write, to literally have three different shows going at the same time, because we were having children like crazy. We adopted three, and then my wife got pregnant. We had five children under the age of six. I was working on two typewriters.
So you'd be multi-tasking between different scripts and different series.
What you'd do is, you'd pitch a show, and they'd say, "Write up a story." So you go home and write the story, and while you're doing that, you're going to another show and pitching another idea. So you'd have one in story, maybe one in first draft, one in second draft, on different shows, so that you could get paychecks coming in. Because they would pay you based on what you had turned in – if you turned in a story, they would pay you for the story; if you turned in a first draft, they'd be paying you for the first draft. You couldn't just afford to sit around and wait for a story check and do nothing else, because it would take too long to get another show revved up. You had to kind of juggle. The only way you could get enough checks coming in to feed your family was to do more shows.
What was your relationship with David Dortort like on Bonanza? Did you have to pitch all of your episodes, or did it become a given after a while that you'd be writing for them regularly?
Well, what happens is you usually get multiple assignments, and I had several. They'd assign me to do three, and then I'd finish the three and they'd sign me to do three more. Sometimes I'd come up with an [original] idea. The wives thing was something that kind of came up as we were all sitting in a meeting one day, and David was reading me some of the letters from viewers who wanted to know why all the sons looked different. He said, "You know, we ought to do a couple of episodes to show that. Why don't you see what you can do with Adam's mother?" So I went home and thought about it, and came back with an idea which he liked, and then we proceeded from there.
Once in a while they would have an outline or something that somebody had come in with, maybe a writer without too much experience or credentials, and they'd say, "We kind of like what's here, it just wasn't written very well. Take this and see what you can do with it."
Your comment about the viewer mail is interesting, because it's rare to hear about producers catering so willingly to commercial concerns (or rare to hear them admit it, at least). Was David Dortort especially responsive to what the audience wanted, or did he put his own creative taste first?
Dortort was a writer himself, in the early years. He wrote some feature films. He was very respectful and very open to ideas that explored different aspects of character, which wasn't always the case with people running westerns. [A lot of] westerns were pretty much standard – you know, Wagon Train had some character to it, but I think it was a little more standard than Bonanza. I think Bonanza was truly more unique and lasted a long time because it did explore characters. And I knew that from the very beginning, because I had pitched something to him that was really off-beat: a gypsy girl thinks she's turning into a wolf and killing chickens! I mean, that's pretty off-beat for a western. But he liked it and it was made. And it was very well-done; the actors were good in it and it looked good. So I went on to do other stories. I did a story about their uncle, who was a Comanchero, and it was called "The Last Viking."
I remember, too, David asked me if I wanted to do a Christmas show, and I said, "Oh, sure, okay."
I went home and, God, I could not come up with an idea for a Christmas show. And my wife said, "What about Heidi?"
I said, "What about Heidi?"
I didn't even remember what Heidi was about. She began to tell me the story of Heidi, and I said, "Wait a minute, I could do that."
So I went to David and said, "What about this girl who's blind, and she's got a grandfather up in the woods someplace and she hasn't seen him in a long time?" That's how their Christmas show came to be, which has been run [in syndication] every Christmas for the last forty years.
On a show like Bonanza, where you were a regular contributor, would you visit the set to see your work being brought to life?
Yeah. Especially with "Dark Star," because that was really the first hour script I had done. Lewis Allen, a very well-known British director, was hired to direct "Dark Star," the first one that I did, partly because he had directed a very successful thriller called The Uninvited, with Ray Milland. I remember going down and talking to him a lot, because it was really fun for me, at that time, to go on the set and see how things were going. After that, it got more and more difficult to spend any time on the set, because I was just too busy writing. And watching filming, for the most part, is pretty dull. It's a lot of sitting around waiting.
You didn't write many westerns other than Bonanza.
No, I didn't, really. I did a story line for Rawhide and got cut off, because they didn't like the kind of unusual stuff that I did. They didn't appreciate me!
Could that become a contentious encounter between a writer and a producer, in a case like that?
Well, you don't get a chance to be contentious when they cut you off, because they don't call you, they call your agent. And your agent calls you and says, "They're gonna pass." So that's all you get.
I would imagine that Bonanza, being the number one show on TV, established you pretty effectively in the industry.
Yes, it did. But a lot of my friends who were working as writers had difficulty at times because the genres fluctuated. Westerns would be very popular, then that would die out a little, and medical shows would be popular. Then it would be detective shows; then it would be lawyer shows. They had difficulty making those transitions. For whatever reasons – maybe it was just desperation, because I had five children and I had to do it – I was able to make the transition. I could write lawyer shows, I could write doctor shows, I could write westerns. So that kept me going.
I remember a friend of mine, Steven Ritch,4 who died a couple of years ago. He was a very capable writer, but he had difficulty making those transitions. He could [only] write certain types of shows. And it was not just him; there were a lot of writers [in that predicament].
Ritch had also started out as an actor.
Yes, a lot of those early actors became writers. We all did it by the seat of our pants. There were no writing schools. There were no books on writing; maybe one. But besides that, the only way you learned how to write television was to pick up a bunch of scripts – which I had as an actor – and study them. And then just do it – sit down and write.
Had you ever thought of writing before you were an actor, or was the switch purely out of desperation?
No, it was out of desperation, and because of my wife. And because I saw that others were doing it. But I had never had any aspirations to be a writer.
Up to that point had you always wanted to be an actor?
Yeah, I wanted to be an actor. Well, I didn't always, but when I got out of school and didn't know what the heck I wanted to do. I went in the army and then bummed around. I had some inkling, a taste of acting, in school. In the last year of high school I was in a couple of plays. By the time I got out of the army I had a little bit of direction. I thought, "You know, maybe I can try that." I studied with a lot of very good people, and a lot of interesting coaches. I set up my own school of acting at the Players Ring Theatre back in those days.
*
After Bonanza, you wrote scripts for the two dramas that Herbert B. Leonard and Stirling Silliphant produced for Screen Gems, Route 66 and Naked City.
I had written a very successful script for Route 66, a story called "Every Father's Daughter Must Weave Her Own."5 I pitched that story to Bert Leonard, who was doing both of those shows, and he liked it very much. He was just thrilled with it and gave me a multiple to do a couple more Route 66s and a Naked City. After I finished the first script and they loved it and it turned out so well, I started trying to write the other ones – and I could not do it! I could not come up with ideas, and the ideas I did come up with they didn't like. Finally they took away my multiples. They got so frustrated with me, and I was frustrated too.
Was it acrimonious?
Well, it's acrimonious in the sense of they're not happy that they committed to you and you kind of failed them. So you feel bad, and they finally call your agent and your agent calls you and says, "Well, this is bad news." Those are painful moments for a young writer.
I did finally manage to get a story idea [for Naked City] that was about a young actor in New York that was killing people or something. I wrote the draft, and they weren't too happy with it, so they got Howard Rodman,6 a terrific writer, and he really wrote the pants off my draft. It taught me a lot. Rodman taught me a lot about writing just by reading what he had rewritten and how he had rearranged it, and what he had done with the characters and how he had pumped up the dialogue. He was a very organic, very earthy guy.
And quite eccentric, I've heard.
Very eccentric, yes. He got into fights. He was a writer like my wife, an extraordinary talent, writing from the gut. I tended to intellectualize. I tended to write from my head, and I was always envious of those writers who could write with such down-to-earth feeling. That's why I've always said that my wife is a better writer than I am, and I truly believe that.
Since you had been an actor, I'm wondering if your Naked City script, which is set primarily in a Greenwich Village acting workshop, drew on your experiences in that field.
Yeah, that's pretty much what started that idea, because I had been an actor and had a lot of experience as an actor. Not in New York, but out here in L.A. And I really didn't know an awful lot about being an actor in New York, but I tried to invent.
A lot of screen time is given to the acting exercises the characters go through, to the real nuts and bolts of acting technique. Was that your contribution to the script or Rodman's?
I think that was mine. I had done a lot of improvisation. I taught acting, had my own classes, and improv was a great part of it. And my wife Nancy and I met, really, in improv.
I'm impressed that ego didn't get in the way of your learning something from Howard Rodman. It's a rare experience when a writer comes away pleased with how he was rewritten.
Well, I didn't have much choice. It's a matter of whether the cup is half empty or half full. I was one of those writers who says, "Look, I'll take help any place I can get it." If the janitor gave me an idea and I thought it was useful, I would use it. I didn't care where it came from if I could learn from it. I think a lot of writers who didn't go to college, like me, started eating up information and knowledge and skill anywhere we could get it. Most people who have written or gotten some education in writing have it to fall back on, and it helps them in terms of the structure and the principles and all of the things that go into writing. I just had to go by the seat of my pants. So it didn't always work.
So you weren't formally trained as a writer?
No, I didn't go to college at all. In fact, I barely got through high school. A lot of people thought I went to Princeton or Columbia, but I had taught myself as an actor how to speak [well]. I did a lot of Shakespeare and a lot of classics. So I did teach myself a lot through the years before I became a writer, simply through acting.
It's fascinating to learn that you're self-taught, since some of your TV work is pretty self-consciously intellectual. For instance, that Route 66 script, "Every Father's Daughter" is very allusive, and it parallels the heroine with the character Arachne from Greek mythology.
Well, I did a lot of research. I loved mythology. Whenever I could, I would use metaphors or parallels or allegorical things, because I enjoyed doing that. I must say this: while I didn't go to college, I was extremely well-read. Back when I grew up, there was no television. So I read. I listened to the radio, but I also read a lot. I grew up reading classic literature, and of course the great boys' stuff: Jack London, Burroughs, and all of the early science fiction. When I was a teenager, I had read Ray Bradbury's Dark Carnival, which was one of his first works, in the forties, and so from that I was a very big science fiction reader, and [later in television] I wrote some science fiction.
That brings us to The Outer Limits, which is today probably the most celebrated of your television work. Did that help to advance your career at all at the time?
Well, I don't know how important it was to my career, but it was important to me at the time, as I remember, because it was anthological; you didn't have the running characters to deal with. It was science fiction, and I had always had an interest in fantasy and science fiction, but I had never written any, really, until The Outer Limits. So that was an interesting and good experience for me.
How did "The Man Who Was Never Born" come about?
I had this idea in my mind, a kind of a beauty and the beast idea, and so it kind of developed from that, because that was one of my old favorites, Jean Cocteau's Beauty and the Beast, the French version, which was a beautiful film.7 I was thinking of that film, and also just the idea that had always kind of fascinated me. Joseph Stefano loved the idea, and it had [in it], as I remember, a lot of what I was feeling at the time. I always liked romantic stories, and this was a chance to do something that you really don't get to do very often in television. I gravitated toward that.
Did Stefano, the show's producer, contribute to the script of "The Man Who Was Never Born"?
Not much to that. The second one I did, there was pretty much of a solid rewrite, as I remember. Joe did some work on "The Children of Spider County" himself. But there wasn't much done on ["The Man Who Was Never Born"] that I can recall. He liked it. He was very happy with it, and so was Martin Landau. Shirley Knight was very happy with it too. So it worked pretty well, and it was new to me and something that I cared about, so I really put a lot into it.
Do you remember how your second Outer Limits script, "The Children of Spider County," came about?
Not an awful lot about that, conceptually or how it started, except that we wanted to do something about outer space and aliens, but I wanted to try and see if I could make it more emotional than just the same old story. I recall talking to Joe about an alien being that was left here, and that a parent had to come and retrieve the child. And I think that was pretty much the story, as I remember it. I named the leading character Ethan, which was my son's name, one of my sons. Other than that I can't really remember too much about it.
As I recall, your comments about that episode in the Outer Limits book were fairly negative.
Well, it was more of a struggle. It didn't come as easy to me. It was a more difficult story to work out, and there seemed to be more demands to do this or do that. The first one I just came up with it, I gave them the story outline, everything kind of fell into place. It was based on a simpler notion.
I usually did pretty well on my first one. Then if they gave me any more I would really come apart.
Why do you think that was?
Who knows? Sometimes when you go in with an idea, something that you care about, and you do it and it works out, and then they start giving you more, you get panicked. Or you're struggling to come up with an idea, under pressure, and they keep saying, "Well, what have you got today?" or "Do you have something?" And you keep pressing to try and find something that they're going to like, and finally they like an idea but you're not really into it that much emotionally. Or you don't understand the idea, you just happened to come up with a notion and you can't follow it up.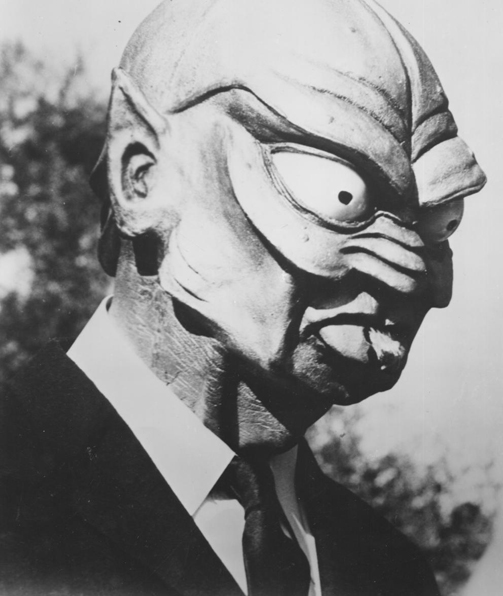 Monster in a Suit: ABC's unsubtle notions of horror shoehorned this unlikely creation into Lawrence's second Outer Limits episode, "The Children of Spider County"
*
Another great sixties show you wrote for was the medical drama Ben Casey.
Those were a little different, too. I was very fortunate in working with Matt Rapf, who was the producer, who also let you go. He tried different things. "Make Me the First American," the one about the old Indian – that was a character that I had been writing in one way or another for years. If you take that old Indian, and you remember the father in "Elizabeth, My Love" in Bonanza, Abel Morgan Stoddard – he was that [same] character. Abel Morgan Stoddard is the actual name of my wife's grandfather. She had told me about him, and had introduced me to this wonderful kind of old Welshman, who was tough but had a heart underneath it all. I kind of amplified on that. I wrote him in many different stories in one form or another. I remember even writing a Tales of Wells Fargo that had that character, called "Defiant at the Gate." Tom Tully played [that version of] the character.
The other story that I did for Ben Casey that I liked writing was "Fire in a Sacred Fruit Tree." That dealt with abortion in a time when it wasn't being talked too much about. It had certain [elements] that had to do with religious fanaticism: this woman would rather die than have an abortion. So it was that dilemma: should she have an abortion and live, or should she die and not have an abortion? That's a very contemporary concept, one that we're still wrestling about.
Was there difficulty in getting the abortion angle past the censors?
Well, when you're working with someone who is willing to fight with you, to fight for a story, against the network – and I've had many, many battles over the years – but fortunately I was working with people who wanted to do certain kinds of stories, and they would go [to bat for them].
When I was working on Hawaii Five-O, for instance, I did a number of very controversial subjects. One in particular that dealt with the Vietnam War and the My Lai massacre. That was called "To Kill or Be Killed." That story was a mystery about a soldier and whether or not his brother killed him. The revelation is that he had been complicit in the My Lai massacre and had killed himself over what he had done. They didn't want to do that at that time – they were very much afraid of it. But Lenny Freeman, who was the producer of the show, really had a battle with the network and finally got them to do it. It got through pretty much as written, and it was one of the best things I think I've done.
I remember much later, after it had been broadcast, getting a letter from Jack Lord, who told me that he was running down the beach and somebody yelled, "Dirty communist!" He was getting a lot of flack. But he had liked the story.
Were you a party to Freeman's dialogue with CBS about your script?
Not really. All I knew was that there was a lot of fighting going on. It was rare that the writer got involved. They usually kept you pretty well out of the way, for various reasons. Nobody wanted to be embarrassed if they lost [a battle with the network]. The networks didn't want any leaks getting out about things that might come back to haunt them.
I do remember a particular battle that I was privy to that took place when I did a two-part episode about Jean Lafitte for Irwin Allen. This was a pirate story [for] Swiss Family Robinson. I started trying to write this thing about pirates, and I kept getting these letters from Program Practices, which was a euphemism for the censors. Program Practices kept saying things like, "You can't use any swords. That's too much violence." I said, "Wait a minute, this is a pirate story."
Then they said, "You can't use these phrases." I said, "I got those phrases directly from Robert Louis Stevenson, for Pete's sake. They were in Treasure Island! You mean I can't say, 'You heathen booger?'" They said, "No, no, you can't use that." So there I was, with a pirate story, and I couldn't use any swords, I couldn't have anything that remotely sounded like cursing, and I couldn't have any ships [because] they couldn't afford it. It was not an easy task.
After Ben Casey, you wrote for the next series that Matthew Rapf produced, the political drama Slattery's People.
That was interesting because I remember going up to Sacramento with Matt Rapf, who was a great guy, and very funny. We all, a collection of writers, went up there to study the legislature, because none of us really knew anything about government and the way legislators work. And I still don't know an awful lot. But we got enough information.
So it was kind of like a field trip.
Yeah, it was a field trip of writers to get some understanding how legislators operate. Because we had done lawyer shows, but nobody had done a series about legislators. We weren't even sure that it could work. But I remember that I did a fairly good story.
Well, that's a hard show to see today, because it only lasted for a season and a half.
Yeah, right, I don't think it lasted very long at all. And I think I probably was glad! Some of them are really hard to do. Some of the medical shows were hard. Ben Casey was difficult, but Matt Rapf was very good about letting writers really try something different. It was not strictly a medical show. It really had a lot of style and we went into stories that were really strange at times.
You later wrote for both Marcus Welby, M.D. and Medical Center.
Right. Well, now, they were more straight medical shows. You didn't have quite the liberties that I had with Ben Casey. But I had gotten enough experience with medical shows to be able to do them.
*
When you were writing television, would you typically work at the studio or at home?
Very rarely would you get an office, because you usually weren't there long enough to have an office. Even when I was doing Bonanza and I was writing multiples. First of all, they didn't have many offices available, and it didn't make much sense to have an office because you were going to be writing other shows. You didn't want them to know you were writing other shows.
A producer would get annoyed if they felt you weren't devoting your full attention to his show?
That's right. Because they were saying, "We need this in right away. How soon can you get it in?" You'd say, "Oh, I'll get it in within a couple of weeks." In the meanwhile, you're working on another show, and they're calling you and saying, "Where's my script?"
One time I was working on Medical Center, and I had the script – in those days you worked on a typewriter with carbon paper – and I hadn't made a carbon of this because they were in such a hurry to get it. I'm rushing to get it in, but I had to get my car washed and gassed up. So I stop at the car wash and I go up to pay, and I leave the damn script on the counter! I didn't want to leave the script in the car, so I took it with me, and while I was signing the receipt, somehow somebody who was standing next to me put one of their things on top of my script and took it with them. All of a sudden I'm in my car driving to the studio, and I said, "Oh, my God, what have I done with the script?"
I had to go in to the producer, Frank Glicksman, and tell him, "You're not going to believe this, but I lost the script!" They had a fit, naturally. You can imagine how I felt: "Like they're going to believe [this excuse]!"
And they looked at me like, "Give me a break! You're working on another show, and you just didn't finish it, and you give us this bullshit."
And I'm saying, "Honest to god, it really happened." Fortunately for me, my name and address and phone number were on the script, and a good samaritan called me, almost the same day.
Also during the 1960s, you earned credits writing several Elvis Presley movies.
My agent called me up and said, "Would you consider doing a movie for Elvis Presley?" And I said, "Who's Elvis Presley?" I had no idea at the time who he was; I had never heard of him. I wasn't a rock'n'roll fan in those years. I had grown up in the big band era. I was a popular song enthusiast enthusiast as well as a singer. I'd done some singing, and had some training as a saloon singer.
So when I went down to meet Hal Wallis, I was a little bit overwhelmed because I'd never heard of Presley. I didn't know what I was getting into. As it turned out, I rewrote a script they had, which turned out to be Roustabout, and then I did two others later on. Those were good, but I remember I was on a week-to-week [contract], and every week at the end of the week I'd pick up my pencils and go home because I figured I was going to be fired.
As your career progressed, you sold several TV shows of your own.
I had three actual series on the air. The Phoenix, Kodiak, and the first one was The Sixth Sense. The Sixth Sense was done as a movie of the week with Alex Dreier, the broadcaster, and that was a very successful movie of the week which they turned into a series at Universal. Harlan Ellison was my story editor. They put a contract player into the lead instead of Alex Dreier, because Alex Dreier was a big, heavyset kind of a guy, so they [replaced him with] Gary Collins. I worked on it for a while, and then I got very frustrated because the network just did not understand the show, and neither did the producer. They understood the movie of the week, because it was more or less a ghost story. It had some parapsychological overtones, but they didn't understand really what parapsychology was, other than telepathy.
I wanted to expand it a little bit. I wanted to get into telekinesis, which became very popular later on because of Stephen King and Carrie and so many films that dealt with the ability to influence matter with the mind. But they didn't understand what the hell I was talking about. I got into big fights and eventually left. The series didn't do too well, and flopped after the first year.
During the 1970s, you were incredibly prolific. Did you have the luxury of turning down assignments on shows you didn't care for?
Oh, yeah. I can't think of anything in particular. There were a lot of shows that were kind of shallow and superficial. Fortunately, there were periods where the agents were calling and saying, "Do you want to do this, do you want to do that?"
And I was very thrilled that that was the case, which kind of led to my downfall in later years, because I thought, oh, I can always go back and write episodic television. Well, it wasn't true. As you get older, it doesn't matter what it is, they don't want you. Because the guys who are in charge and making the decisions are about twelve years old. [Laughs.] Maybe not twelve, but it seemed to me that way. They don't want to deal with people who remind them of their parents. And as you get older, that's what happens. But we were fortunate, Nancy and I. We worked together in the later years on quite a few things. I worked pretty much until I was sixty.
Was it a shock when the work stopped coming in?
Oh, sure. When the work stopped, it was very much of a shock. I don't know how others have dealt with it, but for me it was very difficult. Who knows why that is, except that a lot of us kind of equate our self-worth with our work. And when the work stops, you become can become very depressive. It was very hard, and I had to make difficult adjustments.
But the reason I worked as long as I did was because my wife started working with me. Because I was pretty burned out ten years earlier. We got this project, a movie about Montgomery Clift, and I was going to do that in New York.8 I took Nancy with me, and [the producers] didn't know that you don't invite wives into the story meetings. So they invited her in and they would ask her questions, and her answers were so brilliant that they said, "Why don't you guys work together on this?"
I thought, oh my God, how great, because I didn't think I could do it [alone]. I was so burned out at the time, I didn't want to take it to begin with, but we needed the money. So we started working on it together, and that's how her career started. And from there she had to prove herself every inch of the way, because she was one of the very few women in the industry working as a writer-producer in those days. Right after we finished doing the Montgomery Clift script, we sold a series called The Phoenix. She thought, well, that happens every day. Well, it really doesn't. She just happened to fall into that particular period where I happened to get a screenplay and then a series pilot getting made that we worked on together. But it was really a start for her career. We became producers as well as writers, and it kept us going for quite some time after that. We did a number of pilots and series: Jessie, and Lady Blue. It kind of helped my career keep going, as well as starting hers. After raising five kids, she started a career at age fifty. Which was pretty good.
It sounds like it was a good thing for you, too.
Yes, it was. It really was, for both of us. We had such a good marriage that we could handle it. Some people can't.
Notes
1 See The Outer Limits: The Official Companion (Ace, 1986) by David J. Schow and Jeffrey Frentzen, p. 129.
2 Dark of the Moon, by Howard Richardson and William Berney, played on Broadway in 1945 and was revived at the Circle in the Square six years later.
3 Robert Dillon was a writer for Roger Corman (X – The Man With the X-Ray Eyes) and William Castle (13 Frightened Girls), an associate producer on AIP's beach party films, and eventually a top Hollywood screenwriter (Prime Cut, French Connection II, The River).
4 Steven Ritch (1921-1995) collaborated on the feature City of Fear with Lawrence's cousin, Robert Dillon. Ritch's television writing credits, which end in the mid-sixties, include Wagon Train, Frontier Circus, Tightrope!, and Combat.
5 The title was shortened on screen to the less fanciful "Every Father's Daughter."
6 Howard Rodman (1920-1985) was a live television veteran who became the primary creative force on TV's Naked City. One of Hollywood's most esteemed "writer's writers," he later created David Janssen's cult detective series Harry O and contributed to the screenplays for Coogan's Bluff, Madigan, Winning, and Charley Varrick.
7 Jean Cocteau's La Belle et la Bête, released in the United States in December 1947, was among the first of the wave of popular foreign films that influenced the young television writers and directors of the fifties.
8 The film was never produced.
All Text and Interview Copyright © 2007 Stephen W. Bowie