EAST SIDE / WEST SIDE
by Stephen Bowie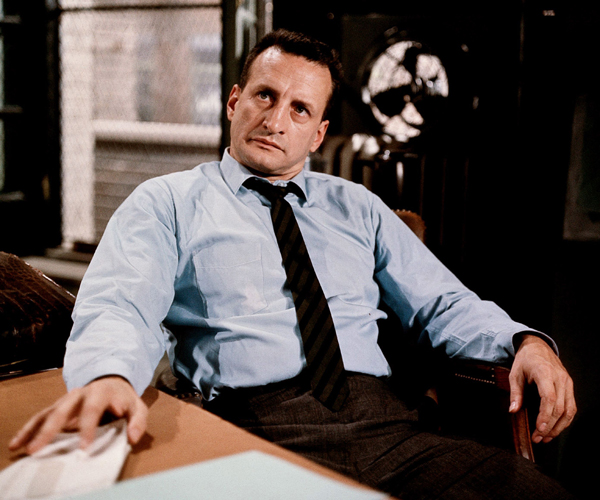 "On those occasions when the medium has taken a stab at limning the unhappy reality of what goes on in much of the world (e.g., East Side / West Side), the public has quickly tuned out." These words were written in May 1968 by the sponsor of Julia, in an effort to justify the Diahann Carroll sitcom's lightweight, idealistic take on race relations and single parenthood in the midst of the Civil Rights movement. Four years after it was cancelled, East Side / West Side had come to exemplify within the television industry the kind of programming that was too dark, too controversial, too unglamorous, too depressing, or simply too good to catch on with a mainstream audience.
When it debuted as part of CBS's 1963 fall lineup, however, East Side represented a milestone in the evolution of quality television. As the great anthologies of television's Golden Age died off in the late nineteen-fifties and early sixties, independent producers like Fred Coe, David Susskind, and Herbert Brodkin quietly supplanted them with continuing dramatic series that offered equally challenging and intelligent content. East Side / West Side, Susskind's chief contribution to this effort, proved the most challenging and confrontational of this wave of early TV dramas. Its unflinching commitment to addressing topical politics and real social issues did in fact manage to alienate its intended viewership in a big hurry.
Curiously, trenchant social realism was, not the first, but the last component of the show's format to take shape. What eventually came to be known as East Side / West Side began as a vaguely-conceived vehicle for a hot new star whose fiery, in-your-face style had recently left its mark on Broadway and in a series of important films: George C. Scott.
Scott was a new kind of actor in the fifties, a kind of post-Method actor whose emotional, in-the-moment style came less out of technique than out of real-life anger and depression. A University of Michigan graduate, he spent years idling in a menial IBM job, edging into alcoholism, getting into bar fights. Then, in 1957, the thirty-year old Scott's mostly unsuccessful stabs at an acting career paid off when he made a splash in the New York Shakespeare Festival's production of "Richard III." The Bard's vilest protagonist provided Scott with a perfect opportunity to pour pent-up hostilities into his work, and after the run of "Richard" the actor began to play similar roles in films and live television. He earned Oscar nominations for his supporting roles in Anatomy of a Murder (1959) and The Hustler (1961). Both films cast Scott as somewhat one-sided villains, and the characters seemed fresh because the actor loaded them with his own intensity. Broadway, where Scott starred in "The Andersonville Trial" and "Comes a Day" during the early sixties, offered him roles of wider range, but perhaps television would be the natural medium for the young actor's next logical progression: into a central, and heroic, role before a national audience.
Scott had up to that point taken a disdainful attitude toward television in general and toward ongoing series in particular. Though he had guest-starred on Naked City, The Virginian, and Ben Casey (and scored a 1961 Emmy nomination for latter), Scott limited most of his small-screen appearances to prestigious anthologies and dramatic specials. An ongoing television show of indeterminate length was the last place a mercurial up-and-coming actor like Scott wanted to get stuck, and he likely would have avoided East Side / West Side had it not been for his pet passion: the Theatre of Michigan that he founded in the early sixties. A project designed to extend major theatrical productions outside the confines of the Big Apple, Scott's Theatre took Detroit (where the actor spent much of its childhood) as its home base. It also took a considerable amount of outside capital to get off the ground, and to raise the cash Scott made a pact with one of his "pet hates," television.
On January 3, 1962, CBS and United Artists announced that they were beginning preparations for an hour-long drama starring Scott, to be launched during the 1963-1964 season. The terms of Scott's enviable contract bound him to the new series for three seasons, if it was successful; in return, the actor received the then-considerable fee of $10,000 per episode, script approval, a percentage of the profits, and a combined investment of $70,000 in the Theatre of Michigan Corporation by CBS and UA. Almost immediately, the cagey Scott caused a crisis by asserting the creative control he had been granted. Learning that the vehicle being put together for him was a run-of-the-mill action show chronicling the adventures of a foreign correspondent, the actor balked.
"I had signed with the network, and the stuff they submitted to me I didn't like," Scott recalled in 1996. "So I was either going to be sued, or – whatever, I don't know. But I met with Jim Aubrey, who at that time was the president of CBS, known as the 'Smiling Cobra.' He and I met at the Walnut Room of that famous hotel – the Plaza. We had lunch, and he said, 'Look, don't worry about it. I got something else, and I'll run that by you.' So that's how I became interested in East Side / West Side."
Aubrey's intervention was the result of some maneuvering by the second important figure in the creation of East Side / West Side: David Susskind. Now remembered primarily for his controversial syndicated talk show, which ran for nearly thirty years, Susskind was also one of the first and most important of television's independent producers. Born in 1920 in Brooklyn (though the image-conscious Susskind, who was also famously sensitive about his diminutive stature, sometimes gave his place of birth as the more exclusive Brookline suburb of Boston), he entered show business as an agent. Susskind was only twenty-eight when he and an older associate, Alfred Levy, formed their own agency, Talent Associates Ltd. Over the course of their long partnership, the well-liked, long-suffering Levy would assume the role of peacemaker, assuaging the egos bruised by the junior partner whose ambition outshone his own.
Sensing the lucrative potential of television, Susskind converted Talent Associates into a packaging company for new programs in 1952. (This was part of an industry-wide trend: the hottest agency of the late forties, MCA, formed the hugely successful Revue Productions, and eventually divested its agency business in order to purchase Universal Studios. The William Morris Agency, MCA's chief rival, forged close relationships with rival production houses like Dick Powell's Four Star.) Talent Associates oversaw the production of some of the best and best-loved series of the Golden Age: its first hit, the whimsical Wally Cox comedy Mr. Peepers; the tough-minded legal drama Justice; the docudrama-styled Armstrong Circle Theatre; the Roald Dahl-hosted horror showcase Way Out; and a variety of prestigious anthologies including the DuPont Show of the Month, Sunday Showcase, and the later seasons of The Philco/Goodyear Television Playhouse.
Despite this prodigious output, Talent Associates was structured like a small, family-run firm. "We were all free spirits," said Susskind's head of production, Renee Valente. "We were all together in an apartment when it first started, and none of us had any money. We chipped in for eggs, and scrambled eggs in the kitchen. We were never into any corporate structure. You wanted to talk to David Susskind, you went in. You were angry at him, you just barged in." Susskind deliberately chose eager, inexperienced associates, many of them women, who would learn on the job. Valente, for example, was recruited by Talent Associates when she was only sixteen and majoring in psychiatry during her freshman year in college.
With his television enterprises on firm footing, Susskind in the late fifties began to branch out, putting together Broadway shows ("Mr. Lincoln") and feature films (A Raisin in the Sun). In 1958, the young producer assumed a very visible public identity when he became the host of Open End, a chat program so titled because it continued into all hours of the night until the guests finally talked themselves out. (The show's four-guest format was duplicated by Bill Maher on Politically Incorrect, minus the open end.) Brash and opinionated, Susskind was never afraid to say what was on his mind or to make enemies within the industry, and Open End proved an ideal podium from which to do it. When Russian Premier Nikita Khruschchev appeared on the program during his 1961 visit to the United States, one critic accused Susskind of having "tried to tell Khrushchev how to run the Soviet Union."

Others condemned Susskind for his naked ambition. "I learned things from him, including the famous 'Sincerity. Once you can fake that, you've got it made,'" said East Side / West Side writer Allan E. Sloane. "Also I learned never [to] trust anybody who wears his jacket like a cape. David had a mouth like a moray, avid for ideas, anybody's ideas."
By 1963, Susskind had a reputation as a maverick, one of the last producers willing to stand up to the ever more powerful TV networks. "They hated him," said Renee Valente. "They hated him because he was a fighter, because he hated Hollywood, because he didn't like the system. He was a rebel before it was popular, and he taught us all to be." Valente's description applies equally well to George C. Scott. Just by virtue of having managed, between them, to alienate a considerable segment of the entertainment industry, the troublesome actor and the self-styled independent producer may have seemed destined to join forces.
Two of Susskind's most widely-publicized television programs – the DuPont Show's version of Dickens' "A Tale of Two Cities," and a special adaptation of Graham Greene's "The Power and the Glory" that starred Laurence Olivier – had featured the young Scott. When the actor threatened to abrograte his agreement with CBS, Susskind, seizing the opportunity to produce the Scott program under his own auspices, cast about for a more original concept than the foreign-correspondent premise. Eventually, he turned to his friend Robert Alan Aurthur, a talented television playwright of the same generation as Reginald Rose, Rod Serling, and Paddy Chayefsky. Aurthur had contributed scripts to many Talent Associates series, and one of them, "A Man Is Ten Feet Tall," became the basis of Susskind's first major theatrical film, Edge of the City (which starred Sidney Poitier and John Cassavetes).
By 1962, Aurthur had moved up into the executive corps and was a vice-president of television production for United Artists, whose forays into the new medium had been tentative. From his bottom drawer Aurthur pulled out "My Three Angels," an unproduced script of his which centered around the exploits of a trio of crusading inner-city social workers. In three days, the playwright reconfigured the premise to fit Scott and renamed the project East Side / West Side, a reference to the two halves of upper Manhattan as bisected by Central Park. (Aurthur may have borrowed the title from the 1949 MGM film starring Barbara Stanwyck and James Mason, though there is no connection between the movie and the series.) With the approval of Aubrey and his newest television star, Talent Associates began production on Aurthur's pilot script, now called "It's War, Man."
"It's War, Man"'s story of a teen gang killer and his path through the legal system proved to be a somewhat didactic and even naive inquiry into the sociological underpinnings of crime. Structurally, it more closely resembled an episode of The Defenders, Reginald Rose's courtroom procedural, than the show East Side / West Side would be come. But the pilot did an adequate job of establishing the series' point of view, its goals, and its characters (including one, a junior case worker played by Victor Arnold, who was probably meant to be a regular but was never seen again). Though he received no "created by" credit, Robert Alan Aurthur took home a $1,000-per-episode royalty check for his initial contributions to the format of East Side / West Side – even though his involvement with the show ceased entirely after the production of "It's War, Man."
The central location of the series was the Community Welfare Service (CWS), a private agency that served as home base for three social workers dedicated to solving the everyday problems, major and minor, of the denizens of an impoverished Manhattan neighborhood. According to George C. Scott, the setting was chosen deliberately to get his character out of the office and maximize the audience's exposure to the real streets of New York. "This was a private agency, it was not a public agency," said Scott. "Public social workers, it's my understanding, are under the thumb of government, and cannot operate particularly at will. This, I thought, was clever of Susskind or whoever thought of it, that the agency was a private agency and therefore had a little more independence."
The nominal protagonist was Neil Brock (played by Scott), a tough, impatient, temperamental case worker, but East Side always focused less on Brock than on the people he struggled to help each week. Toward the end of the series' run, the writers began to provide tidbits about Brock's background that suggested the reasons why he chose his profession. In "Take Sides With the Sun," for example, we learn that Brock Americanized his Polish surname (Brochinsky), and that his father was an immigrant who advised him that one has to fight to get anything one wants. Brock's off-duty moments of leisure were rare but revealing. In "The Beatnik and the Politician," Brock attends a party crowded with young bohemian types, where he fits in well – drinking beer, grooving to the music, and even flirting with a beatnik girl. Such moments, along with the glimpse we get of Brock's modest two-room apartment in "Take Sides With the Sun," reveal the man as a blue-collar, average-joe type who relaxes with the same intensity he brings to his work. In the post-All in the Family world of television, Neil Brock's working-class ties may not seem terribly unusual. But for the early sixties, when TV heroes generally drank wine instead of beer and rarely hung out in Greenwich Village garrets, this was another way in which East Side / West Side casually challenged convention.
The other series regulars were two women, Frieda "Hecky" Hechlinger and Jane Foster. Hecky, who seemed to come from a middle- or upper-class background, was Brock's friend and the head of the CWS. Technically, this meant that Brock answered to a female boss, although in practice this relationship between the characters was never emphasized.

The third main character, Jane Foster, was an African-American CWS employee whose actual job remained ambiguous. Most publicity material for the series referred to Jane as Brock's secretary, and indeed she does man a reception desk and answer phones in most episodes. However, Brock and Hecky treat Jane like an equal. In some episodes she appears to be either an assistant or a full-fledged case worker, as when she is seen searching for a school for autistic children in "My Child on Monday Morning."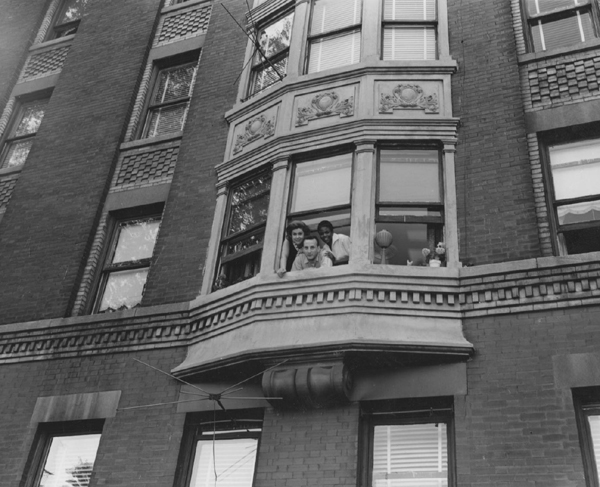 Elizabeth Wilson (left) and Cicely Tyson (right) joined George C. Scott in the series' regular cast
David Susskind personally supervised the production of the pilot, engaging a production team uniformly destined for superstardom in their respective fields. Richard Sylbert, who later won Oscars for his work on Who's Afraid of Virginia Woolf? and Dick Tracy, designed the sets. Arthur Ornitz (Serpico, Death Wish) was the director of photography and Ralph Rosenblum (Annie Hall) the editor. Robert Prince, later an Emmy-nominated composer for The Name of the Game and Night Gallery, earned his first major television credit for his musical score. Daniel Petrie, the director of hundreds of live television episodes as well as Susskind's film A Raisin in the Sun, came on board to helm the show.
With George C. Scott already committed to play Neil Brock, the producer and director set about casting the remaining series regulars. At the strong urging of Scott, Susskind and company chose Elizabeth Wilson to play Hecky. An accomplished theatre and television actress who debuted on Broadway in "Picnic" in 1953, Wilson had had supporting roles in several films (including Patterns and The Goddess), but her unglamorous looks had kept her from becoming a major star. She was not the first choice for the role of Neil Brock's boss.
"Jim Aubrey said, and this was a quote, that he wanted a 'very pretty woman' to play that part," Wilson explained. "A friend of mine actually dated him, and he was famous for liking really voluptuous [women]. He loved the ladies, and so I don't know whether he wanted somebody that he could date or what it was. [But] George said that he wanted me to do it, and he fought for me." Though Wilson was glad to have the job – "I was not that in demand at all; this was a great break for me" – she ultimately found her character's lack of depth disappointing.
"I think the mistake, looking back, was that they had me as a bit of a clothes horse," said Wilson. "She was the head of a social agency, but I don't know where she came from, and she dressed so beautifully and she seemed to have it all together and was working in this environment with all these criminals. It didn't really make a lot of sense.
"I remember my wardrobe was just incredible. I think that may have had to do with what Jim Aubrey said originally: that he wanted her to be attractive. So the makeup and the hair people went out of their way, and I went out of my way, so that she looked good, as good as I have ever looked before or since. And that was what she was about."

Hecky did get one chance to shine in the spotlight. When the pressure of carrying the series necessitated a week's vacation for George C. Scott, the producers crafted the episode "My Child on Monday Morning" as a star vehicle for Wilson. Unfortunately, Wilson's lone shot at a leading role left her with little to do but console the guest star, Marian Seldes, who had the meatier role of an autistic child's mother. Coincidentally (or perhaps not), the film Wilson completed just prior to her tenure on East Side was John Cassavetes' A Child Is Waiting, which also dealt with the hardships faced by autistic children and their parents.
The East Side company's first choice for the role of Jane Foster was the beautiful and talented Diana Sands, who had worked for Daniel Petrie in A Raisin in the Sun. Sands played Jane in the pilot, but negotiations with Sands' agent (who approached Susskind with "wild demands," according to producer Don Kranze) for her to continue in the role broke down at the last minute.
Cicely Tyson was selected as Sands' replacement. Tyson's background resembled that of the CWS' clientele; she was a Harlem-born child of West Indian immigrants who grew up on welfare. During the fifties, Tyson supported herself as a model while playing small parts in films (Odds Against Tomorrow and The Last Angry Man) and off-Broadway productions. She was called to audition for the Jane Foster part when Scott saw her in the play "Blue Boy in Black," and East Side / West Side soon became the future Emmy Award-winning actress's television debut.
Daniel Petrie recalled that "It's War, Man" sold the series with little fuss: "The memory I have is of a screening that we had for the powers that be at CBS. And we screened a very rough cut, but they had to see it, even though they felt it was not really quite ready yet. I remember, even at the screening, I thought, 'Boy, this is pretty damn good stuff.' But it was still kind of unformed, and so it wasn't at all a slam-dunk that it would go on the air. I remember after it was over, Jim Aubrey, the Smiling Cobra, getting up and smiling indeed, and thanking everybody, but being very enigmatic, leaving us there. But David followed him out and rode down in the elevator with him, and when he returned he said, 'We're in.'"
("It's War, Man" would not see the light of day until January 1964, when it became the seventeenth East Side / West Side episode broadcast. Diana Sands is visible in the role of Jane, although her screen time appears to have been trimmed as much as possible. Undoubtedly, East Side's lame duck status was evident early enough that CBS declined to fund any reshoots, even though this was a common practice when cast members were replaced after a pilot.)
In retrospect, it seems puzzling that a program as complex, controversy-minded, and cerebral as East Side / West Side could make it onto CBS' 1963 schedule, for the Scott/Susskind venture had the misfortune to debut under the reign of James T. Aubrey. During his relatively brief (1959-1965) tenure as the network's president, Aubrey oversaw the transition from live broadcasts to primarily filmed shows, and his uncanny knack for programming popular series led CBS into an unprecedented ratings bonanza. In 1962, eight of the ten most highly-rated prime-time shows were on CBS. Aubrey's estimate of the intelligence of the American people was a cynical one, and his prime-time schedule had little room for anything intellectual – this was the man who gave the world such perpetually ridiculed shows as Mr. Ed, Gomer Pyle USMC, Petticoat Junction, and of course The Beverly Hillbillies. According to legend, Aubrey once distributed a memo that codified his philosophy of entertainment as "broads, bosoms, and fun." How, then, did East Side / West Side come to roost in Aubrey's nest?
The broad answer is that Aubrey had to labor under CBS' legacy, going back to its radio days, as a mainstay of quality programming. Network chairman William Paley, Aubrey's boss, remained committed to that reputation and personally supported imaginative and topical shows that Aubrey despised, like The Twilight Zone and Reginald Rose's legal drama The Defenders. As a result the CBS of the early sixties was a schizoid network, home to both the very best and worst of what television had to offer.
More pragmatically, Scott's refusal to star in the foreign correspondent vehicle left CBS with a vacancy in its schedule that Aubrey, out of desperation, was willing to fill with anything. Don Kranze described the situation as "a pre-sold, Jim Aubrey-David Susskind, we're-in-agreement, just-get-me-something. It was set: 'I need something, write me something.' Susskind said, 'Well, what about sociology, sort of a welfare social worker? And each one of these'll end up in some sort of a test or trial or something.' And [Aubrey agrees]: 'Uh, yeah, yeah, that sounds good. I got Scott, you got this, it sounds good.'"
"It's War, Man" also misrepresented Susskind and Scott's vision of East Side / West Side. The pilot, essentially a predictable courtroom drama, gave little indication of the shocking, socially-conscious show that East Side would soon become. Aubrey had put the show on the air without knowing what he was buying. As a result, he would soon turn on the new series that he had helped finagle into existence.
In the meantime, Talent Associates found itself in the panic-inducing position of having committed to delivering a show that it could not, within its present structure, deliver. Susskind had successfully produced a variety of sitcoms and anthology series by allowing his staff to work, loosely but cooperatively, on all of Talent Associates' productions at once. But an hour-long drama, with a difficult star and extensive location shooting, was too big a project for this system to absorb, and Susskind had too many irons in the fire to supervise the whole series as closely as he had the pilot. To handle East Side / West Side, Talent Associates had to bring in outside talent.
The first of the newcomers was Don Kranze. A former assistant director and unit manager on the New York-based series The Nurses and The Defenders, Kranze talked himself into a staff position on East Side / West Side by offering to take a salary cut. "I said, 'Look, David, you really want to be in charge of this show anyway, and I know more about directors than any of these guys. Make me the producer. You'll still be in charge; I'll just handle directors. He said, 'Well, yeah, but you won't handle stories.' I said, 'Fine.' I really was the executive production manager, and set up the physical thing and the budget and all of that."
Among Kranze's initial contributions were the scrapping of Sylbert's sets, which he felt were "phoned in" (Sy Tomashoff, a newcomer from the theatre, became the new art director), and the hiring of the series' regular cameraman. Jack Priestley had garnered critical acclaim (and two consecutive Emmy Awards) for his gritty photography on the recently-cancelled New York cop show Naked City, and East Side obviously lent itself to a similar look. But Kranze recalls a more practical reason for his choice: "I knew that Jack had shot in all kind of impossible situations in Naked City, all over the city, under any condition you wanted. And he was a very calm type fellow. And I knew that with Mister Vesuvius [Scott], you'd better have that type of fellow. Cause things on a set get a little bit edgy after ten, eleven, twelve hours." And Kranze did indeed supervise the recruiting of directors, a mix of New York talents and imported Hollywood veterans that included Petrie, Alex March, Herschel Daugherty, Jack Smight, Tom Gries, Marc Daniels, Walter Grauman, and John Berry.

(Along with the original cameraman and production designer, Talent Associates also discarded Robert Prince and brought in a star name to revamp the music. The highly regarded jazz composer Kenyon Hopkins, whose film work included Baby Doll and The Hustler, composed a pulsing theme that played over opening titles depicting a darkened New York subway tunnel as photographed from a moving train. Hopkins' main title theme was nominated for an Emmy, and Columbia Records released an East Side / West Side soundtrack album.)

While Don Kranze was busy prepping the production end of the series, Susskind had left the task of generating scripts in the hands of an all-female in-house staff that included Jacqueline Babbin and Audrey Gellen, previously the story supervisors on the DuPont Show of the Month and Way Out. Gellen, a New York native who had attended Barnard and Harvard, became the series' executive story editor. She was a strikingly beautiful brunette who had, like Renee Valente, assumed a position of considerable responsibility at Talent Associates while still in her early twenties. While East Side / West Side's pilot was in pre-production, Gellen married the journalist Peter Maas, later the best-selling author of The Valachi Papers and Serpico. Many people who worked for Talent Associates during this period believed she was also having an affair with David Susskind.
Robert Alan Aurthur, busy at an executive level, was unavailable to provide the show with any scripts beyond "It's War, Man." Gellen started from scratch, calling upon established writers like Philip Reisman, author of the screenplay for Susskind's most recent theatrical feature, All the Way Home, and Robert Van Scoyk, who had written for Way Out. At the same time, Gellen struck out in search of new talent. Among her discoveries were Ed De Blasio and Edward Adler, each of whom had just published a first novel rich in the sort of socially-conscious urban realism that was to characterize East Side / West Side.
De Blasio, approaching his fortieth birthday and stuck in a dead-end job reporting for movie fan magazines, was in desperate need of a change of pace when Gellen called. "It just got to the point where I said to my life one day, 'If I have to interview Sandra Dee once more, I'm going to blow my brains out,'" De Blasio recalled. Gellen briefed him on the series' premise during a Friday night phone call: "I hung up and I turned to my wife and I said, 'What does a social worker do?' Because she had taken sociology in college and I thought she was going to give me the answer, which she actually did. She made a long list of subjects and the very first one was 'unfit mother.' And I thought, 'Well, that sounds interesting.'"
The following Monday, De Blasio pitched a story centering around a single parent who turns to Brock for help when her in-laws seek custody of the child. Gellen suggested making the mother a prostitute, and with this revision De Blasio began writing the teleplay. "The Sinner," as the script came to be called, represented an early turning point for the series, just by virtue of being the first usable teleplay completed. "Somehow, I think they knew that this was going to be a powerful episode," said De Blasio. "The Sinner" became both the first episode to be shot and the first one broadcast, and it was indeed one of the strongest. De Blasio's compassion for his unlikely heroine, and Carol Rossen's defiant portrayal of her, established the idea that East Side / West Side would treat people on the margins of society without judgment or condescension.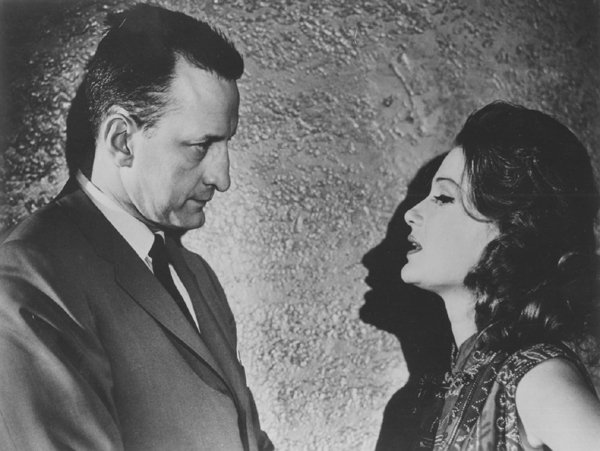 George C. Scott and Carol Rossen in "The Sinner"
Gellen's other important discovery was Edward Adler, a struggling novelist who had just published his first book (Notes From a Dark Street), to widespread critical acclaim, and who had begun to write for The Nurses. Adler recalled, "The producer arranged for a meeting, I met with him, and he said, 'Well, have you ever written for television before?'" I said, 'No, I just been in fiction all my life.' He said, 'Well, can we corrupt you? You want to get rich very quickly?' I said, 'I'm your man.'"
From The Nurses, Adler moved on to East Side / West Side. His first script, "Not Bad For Openers," concerned a cab driver addicted to gambling and drew heavily on the writer's own experiences: Adler had driven a taxi to support himself while struggling to get his work published. In spite of his other professional credentials, the press focused on Adler's proletarian background, to the extent that TV Guide twice noted East Side was being penned by a "cab driver turned writer."
"The whole thing was idiotic," Adler recalled. "Life sends a crew down to do a story on me. The took me down and posed me on top of a fucking Checker Cab, with a portable typewriter on my lap. What can I tell you, it was my fifteen minutes." Adler became one of the series' most important writers, contributing three originals and some uncredited rewrites of scripts by others.
For inexperienced television writers like these, Gellen was, in De Blasio's words, a "fairy godmother." Herself an aspiring playwright, Gellen understood authors' problems and had a skill for nurturing young talent. Her artistic bent did not necessarily make her a good producer, however. According to Don Kranze, "Audrey was so totally disorganized, she doesn't call the writers in to show them what the format of the show is, she's just calling her friends. 'Phil? Would you like to write a show?' Phil Reisman. Guys like that. Good writers, but [she's] not pushing them to get scripts, not organizing them, not anything. And the truth of the matter is, and you won't believe this: Whatever script came in, that particular week, that's the script we shot [without revisions].
"So we had no scripts. Never had any scripts. Now I finally say to David Susskind, 'David, we are desperate for scripts.' We've only got one script, called 'The Sinner,' which is the first script we're gonna shoot. He said, 'Never use that word to me again! Never! I never want to hear that word! We are never desperate!'"
Kranze finally managed to convince George C. Scott of the need for greater script supervision, and Scott recommended a writer whose name seems to have slipped everyone's mind. "If George knew him, that means he's a great guy," Kranze said sarcastically. "So this guy comes on, and he disappears, literally. Doesn't show up for work one say. At that point, and this is the truth, when David hears that this guy doesn't show up, who's in his office at that time? Irve Tunick. He's used Irve over the years. Irve sort of writes documentary-type scripts. At that point, he says, 'How would you like to be the script editor?' Irve says okay. That's how he got hired — happened to be in the office the day that this guy quit."
The addition of radio veteran Tunick (and his eventual replacement Arthur Singer, a former Studio One and Kraft Theater story editor who had been a mentor to many top television writers) to the production staff eased the tension, but it was, as Kranze remembered, only a remporary solution: "Irve did move it to the next step. He called in good writers, gave them the idea what the show was about, and did organize it into a workable situation. But you're still behind, and you're always behind. You never quite catch up."
Complicating the problems associated with the dearth of story material was the strong-willed star's own agenda for the series. From the beginning, Scott implemented his own watchword for East Side / West Side: realism. The actor was determined not to risk his reputation on a show that resorted to tired Hollywood cliches. Future series producer Larry Arrick recalled that Scott "wanted a show which, every week, would expose a sore, would pull up a scab and ask some questions about how did we get here? In a city as large and rich as New York, how did we get here? And shouldn't we be paying attention to it? He would always have comments on the script all the time. They were never to aggrandize his role. They were always his attempt to make the story better, clearer, stronger, bolder, more controversial."
"As far as trivial, meaningless dramatic series are concerned, we've had it," Scott told TV Guide in November 1963. "We have got to come to grips with controversial themes. We've got to try to say something about the way we live. I've been as obnoxious as humanly possible to make my associates see this."
Obnoxious indeed. Principal photography on "The Sinner" started in July 1963. On the evening before the first day's shooting, Ed De Blasio received a late-night phone call: "Scott had decided that he wanted the ending changed. And it was going to begin shooting the following day, at Biograph Studios in the Bronx, and I'm all set to go off and see my baby come to life, and no problems. And here, suddenly, is a problem, that the whole fourth act had to be changed."
In the original script, "The Sinner"'s prostitute protagonist, Lana Harris, had fought a child custody battle with the parents of the baby's derelict father. With Brock's help, Lana was able to keep the child. "Obviously Scott and Susskind were having dinner," says De Blasio, "and Scott decided, 'No, she shouldn't have her child, because that's not realistic.' Scott felt that there were very, very few happy endings in this world of the social worker, that very often they can do nothing – that, unlike Patton, he didn't win this war. He [Susskind] put Scott on the phone, and I'm sitting there in a kind of a daze with a pencil and paper which my wife handed me in bed. He said, 'No, the way we should end it is for the child to be taken away, and for her to be coming down the steps saying, 'I want my baby, I want my baby.' And I must say that I thought, 'Yeah, that's pretty good, my kind of operatic stuff.'"
The next morning, De Blasio began rewriting the script, and the tradition of having East Side's producer drive each day's script pages from Talent Associates' office on Madison Avenue up to the studio in the Bronx was begun. Whatever the complications involved, Scott's ending for "The Sinner" is more effective than the original one.
Scott's quest for veracity extended to all aspects of production. A member of the series' crew told TV Guide that on the set, Scott was "a tiger for realism. When I worked on another show that's shot in New York, I had standing instructions that when we were shooting in a slum it would be an upper-class slum. On this show, it's just the opposite. One time [for the episode "You Can't Beat the System"] we had to stage a fight in an alley. We found the worst one you ever saw. I mean, it really stank. Ir was a night location and George turns up around 11:30, takes one look and says, 'Boy, this is terrible – It's great!' We flew in a stuntman to double for him in the fight, but the guy never got a finger dirty – George did the scene himself."
Scott also initiated the hiring of Pete Hamill, the author of a tough, on-the-streets column in the New York Post, as a "script researcher." Hamill, although he lasted for only a few episodes, was brought in to inject a dose of "street language and street ideas," as Don Kranze puts it. Similarly, real social workers Bertram Beck and Harold Weissman checked the series' scripts for accuracy. "We had a terrific guy, who was the head of the National Association of Social Workers, as a technical adviser," says Larry Arrick. "The temptation was always to send George off on adventures which were either partially or entirely inappropriate for a social worker, just to make the script a little more exciting, to make his role a little more dynamic. And [Beck] would be very good about saying, 'No, we don't do that,' and explaining why we don't do that, and of course it would always make sense."
A number of Scott's more intriguing suggestions never made it into the series. The actor hoped to bring in documentary filmmakers as directors, but the producers nixed this idea for fear that inexperienced directors would cause the show's production schedule to fall even further behind. Nicholas Webster, a director of many documentary specials for all three networks and an Emmy nominee for a race-themed ABC Close-Up segment, became the only East Side director without a long background in episodic television (and Scott seems to have sought him out after seeing his independent film version of Ossie Davis's play Gone Are the Days, rather than Webster's non-fiction work).
Scott also informed TV Guide that he wanted Neil Brock to "change organically, professionally, even physically if that seems logical. Everybody else changes, why not a TV character?" This "novelistic approach" anticipates the direction that 1980s dramas like Hill Street Blues and St. Elsewhere would take, but since East Side lasted for only a single season Scott was able to make only one significant (and ill-advised) change in his character toward the end of the series' run. According to Don Kranze, Scott at one point suggested that a second season of East Side / West Side might incorporate a marriage between his character and Cicely Tyson's – an event that certainly would have raised eyebrows in an era where the mere inclusion of a black character in a TV series caused controversy .
In the long run, Scott established himself as an important – possibly even the most important – creative member of the East Side team. Allan Sloane believes that "in terms of intensity and sheer bulldog talent, George Scott for a while stole the show from Susskind." But the usefulness of Scott's input did not make his abrasiveness any easier to take. As part of his commitment to the fourteen-hour days of series production, Scott stopped drinking and smoking, cold turkey, when the show began. "There were times when I would say, 'George, have a drink, have a cigarette, you're driving me nuts,'" said Larry Arrick.

Don Kranze, as the series' on-set producer, was in a position to observe the havoc that the star's erratic behavior wrought upon the production staff. Prior to the commencement of filming on "The Sinner," Kranze attempted to arrange a meeting between Scott and the episode's director, Jack Smight: "'George,' I say, 'would you come in, we'd like to talk to you about the script. The director wants to see you.'
"'No.'
"'Well, we've got Jack Smight on, and he'd like to meet with you.'
"'Well, uh, meet me in the park.'
"'Where?'
"'Central Park. I'll be playing softball.'
"Jack and I go to Central Park, where they're playing softball, and big liberal George – and only he could figure this one out – is playing on an all-black softball team. Every other player is black, and George is white. What position did George give himself on that team? He's the pitcher. Now, when is the director of the first show talking to the star to get ideas and things? In between innings. Thank God he didn't have to come to bat, because then you'd have to wait even longer."
Later, Kranze supervised a Harlem location shoot for the episode "Who Do You Kill?": "We're shooting up in Harlem, which I doubt you'd want to do today. But in those days you could do it. But what George says when we were through, he comes to me and he says, 'This street should be cleaned up. I want you to call Jim Aubrey and tell him that CBS should pay to clean this whole street up.'

"I said, 'What do you mean, George?'

"'Make it nice. The whole street.'

"That's George, see. How would you suggest I tell the network to spend a hundred thousand, or two, but he feels good about it, right? But you can't do it."
Eventually, the tensions that Kranze describe came to a head. Communication between Scott and the producers broke down, and when the actor refused to approve several scripts in development, shooting ground to a halt. (Accounts differ as to the duration of the production shutdown, but apparently the East Side sets were dark for at least a week during the summer of 1963.) To break the stalemate, Susskind expanded his staff even further.
The first of the new additions was Larry Arrick. Yet another of Susskind's angry young men, Arrick came to television out of a then-obscure comedy sketch troupe called the Second City. With typical foresight, Susskind had been considering developing a regular series around Second City, but his idea proved ahead of its time – no sponsor would buy the proposed series for fear the young comedians might say something offensive. But Susskind inherited Arrick from the venture, and shortly thereafter the newest addition to Talent Associates found himself assigned to East Side / West Side.
"They had the series with George, and they were having an enormous amount of trouble with it," said Arrick. "They thought it was with George, because George was an extremely honest man, and he didn't really want a bigger trailer, he didn't really want a limousine, he just wanted to do honest stories. The finally moved me over there as an [associate producer], to help with story. I spent a little time talking to George, and then I became the story editor. All this happened very quickly, and pretty soon I was the only one that George was talking to. He was mad at everybody. Because I said, 'You know, we come from the same place, we both worked off-Broadway for too many years, and we know sooner or later we're going to be fired off this gig. So, I'm never going to lie to you, and we'll be straight with each other.' And he believed me, and that led to me being assigned as producer."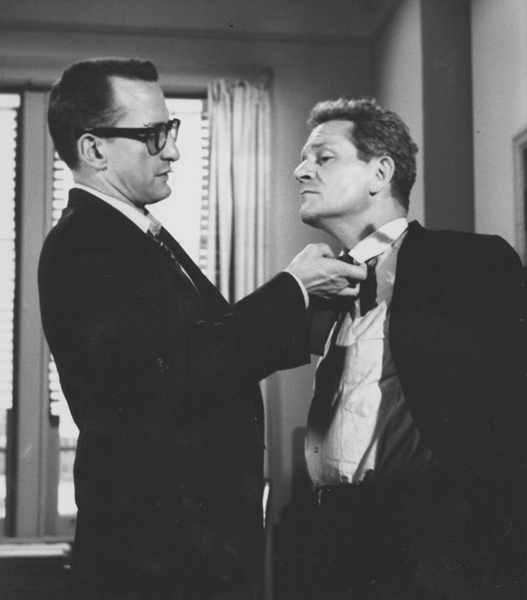 George C. Scott and David Hooks in the episode "Age of Consent"
With Arrick on board and Scott placated, for the moment, the worst of the Gellen-developed scripts were tossed into the garbage and work began anew on East Side / West Side. (Veteran television writers A. E. Hotchner, Irving Gaynor Neiman, Ernest Pendrell, and Theodore Apstein all sold material to the show that was never produced.)
Oddly, one of Arrick's first duties was to help select his boss – a new executive producer who would hopefully organize the series' script department into a more efficient unit. Arrick recommended Arnold Perl, a blacklisted radio writer who scored a stage success with the 1957 play "The World of Sholom Aleichem" during his exile from the broadcast industry. During the fifties, Susskind had reluctantly cooperated with the blacklist; while producing Treasury Men in Action, for example, he fired politically troublesome actors Sam Wanamaker and J. Edward Bromberg at the insistence of the show's sponsor. Eager to atone for his compliance with this appalling practice, Susskind eventually became an outspoken opponent of the blacklist (but only, according to his critics, after it was safe to do so). In 1962 he caused a stir by testifying on behalf of broadcaster John Henry Faulk, who had sued the right-wing organization Aware, Inc., for blacklisting him. Susskind's courageous testimony implicated both networks and sponsors in their cooperation with the organized discrimination against communist-associated artists. A year later, after Arrick talked him out of an initial reluctance to buck the network, Susskind put his clout where his mouth was and put Perl on the payroll.
As Arrick points out, the radical political bent that got Arnold Perl in trouble during the fifties was precisely the point of view that would distinguish his work on East Side / West Side. One of Perl's earliest contributions to the series proved beyond a doubt his credentials as a top-notch dramatist, and became a milestone in sixties television.
Said Don Kranze: "We had no script for the next week. And Arnold Perl, to his everlasting credit, went home and in one week wrote a script called 'Who Do You Kill?' And it's simply sensational. You read the script and you know you have a great television script. At least I did. You can't tell too often, but on that particular script, it was that good. I told my people, if we ever have a chance, this is the week. If we're talking about worrying about budget, whatever we have to do, this is the script – whether it goes on location, or work nights, or build better sets, or whatever, this is the script. It doesn't get any better than this."
"Who Do You Kill?" tells the story of Joe and Ruth Goodwin, a black couple trapped in poverty in the slums of Harlem. While Joe, unemployed but proud, searches in vain for work that won't compromise his dignity, his wife Ruth supports him and their infant daughter with the wages she earns as a waitress. When a rat bites the baby in its crib and the child dies (in part because no one will help Joe transport the baby to the hospital), the family is thrown into chaos. Ruth suffers a breakdown and refuses to attend her daughter's funeral, and Joe, already near the breaking point, teeters on the edge of violence. Neil Brock witnesses these events because his co-worker, Jane Foster, is a friend of the Goodwins, but the social worker admits that he can do little to ease their suffering. Brock's efforts to find Joe a job outside of maintenance work come to nothing, and a local minister's talk of community activism seems naive and ineffectual. Joe angrily rejects his pity, and Brock concedes that "what white man knows what it's like, the life of a Negro." To this sobering narrative Perl added a note of hope. The ending shows Ruth visiting the child's coffin, and the suggestion is that the strength of the Goodwins' love for each other will allow them to persevere in their struggle.
"Who Do You Kill?" took a courageous stand in its depiction of urban poverty and racism. Perl's script specifically indicted employers and unions whose hiring practices excluded blacks, trapping them in menial jobs. The rat-bite angle condemned the slumlords that allow children to grow up in such dangerous conditions. Even more unusual, in a year when Sidney Poitier would win an Academy Award for his portrayal of an absurdly unassertive character in Lilies of the Field, Joe Goodwin was a black protagonist who refused to abase himself before a white man, and who made no secret of the anger and disgust he felt toward racial prejudice. He was Malcolm X in a cultural arena that had just barely begun to assimilate Martin Luther King. Moreover, the Goodwins are shown in moments of physical intimacy, something that even the movies still shied away from in 1963.
The heavily politicized content of Perl's teleplay did not get in the way of the show's emotional resonance, which was skillfully realized by the series' production team. Tom Gries, a journeyman director hired at the last minute when Kranze could not coerce Stuart Rosenberg (then probably TV's hottest director) to defect from The Defenders, coaxed a pair of beautiful performances from the young actors chosen to play the Goodwins. Ruth was Diana Sands, whose rejection of the Jane Foster part was indeed wise, since she has far more to do here in a single episode than Cicely Tyson did in twenty-six; and Joe was James Earl Jones, then a little-known stage actor whose film debut, Dr. Strangelove (also starring George C. Scott, though the two have no scenes together) was still a month away from theatres.
Not surprisingly, "Who Do You Kill?" attracted a great deal of attention when it aired on November 6, 1963, as the series' seventh episode. (It had been the twelfth in order of production). Perl won a Writers' Guild Award for his teleplay, and when Susskind chose the episode to represent the show in contention for the Emmys, it collected eight nominations (more than any other series). Outside the industry, Senator Jacob Javits read two newspaper pieces discussing "Who Do You Kill?" into the Congressional record, and commended the episode for its forthright confrontation of topical issues.
On the other end of the spectrum, "Who Do You Kill?" provoked a deluge of hate mail from conservative viewers, one of whom wrote that "last night we fully expected to see those slobbering social workers get down on their knees and kiss the negroes' behind." CBS' Atlanta affiliate attracted national publicity when it refused to broadcast the episode on the grounds that it might "inflame racial tensions."
Race was not the only controversy into which Arnold Perl stepped. Perl designated East Side / West Side as an unofficial haven for fellow blacklist victims and began hiring out-of-work left-leaning artists en masse. At a time when many blacklistees were just beginning to re-enter the film industry, the series offered some of their earliest post-McCarthy era work to directors John Berry and Charles Dubin, production manager George Hall, and numerous actors including Howard Da Silva, Will Geer, Lloyd Gough, Joshua Shelley, Leon Janney, Shimen Ruskin, Will Lee, Albert Ottenheimer, Lou Gilbert, John Randolph, and Lee Grant.
The most significant of Perl's imported talent was a pair of writers whose penchant for championing leftist causes dated back to their days as Communist Party members in the 1930s. One was Allan E. Sloane, who wrote that he was "politicised in City College at the end of a cop's nightstick." A newspaperman for nine years and a then prolific radio writer, Sloane found himself blacklisted after he publicly criticized the American Legion. Forced, finally, to appear before the House Un-American Activities Committee in January 1954, Sloane named three alleged communists – one of whom, his former friend Millard Lampell, was the second important writer brought onto East Side by Arnold Perl. Lampell had come to prominence in the early 1940s as one of the Almanac Singers, a group of folk musicians that also included Woody Guthrie and Pete Seeger. When he was only twenty-five, Lampell composed the famous 1944 radio play "The Lonesome Train," about the funeral train of Abraham Lincoln, and like Perl and Sloane he became a fairly prominent writer of political and social radio dramas during the late forties.
(Sloane, in correspondence with the author, always identified himself as a blacklist victim rather than a friendly witness. As the primary support for large family that included a disabled child, Sloane was one of the more sympathetic "late friendlies" who gave names after enduring years of hardship. Lampell apparently never forgave him, though.)
Perl encouraged Sloane and Lampell to tackle explicitly political or controversial subjects on East Side / West Side, asking them, "What are you angry at? [What makes you] mad enough to make you get on the rooftop and holler – 'This is wrong. This is not what this country should be!' Here's your chance to get your say said."
As his first contribution to the series (and his first post-blacklist television script), Millard Lampell crafted a scathing deflation of so-called liberal attitudes among middle-class whites entitled "No Hiding Place." In this episode, the Marsdens, an upwardly mobile young black couple (played by another Raisin in the Sun alumna, Ruby Dee, and the theater actor Earle Hyman, later known for playing Bill Cosby's father on The Cosby Show), become the first non-whites to move into a Long Island suburb. At first some of the residents, led by Neil Brock's friends Chuck and Anne Severson (Joseph Campanella and Lois Nettleton), welcome the newcomers; but when the practice of "block busting" begins, the white liberals' pretense of friendliness disappears. Block-busting, as Brock tries to explain to the citizens of the neighborhood, is a manipulation tactic by which unscrupulous realtors convince white homeowners into selling their property at a loss by scaring them into the belief that their communities are on the verge of becoming ghettoes. Then the real estate operators re-sell the houses, for an inflated price, to black professionals eager to get out of the slums of the inner city.
Unlike "Who Do You Kill?," "No Hiding Place" is completely pessimistic in its conclusion. Chuck Severson, despite having brought Brock in to alert his neighbors to the scam, remains uncertain as to whether or not he will risk seeing the value of his property fall in order to take a stand against racism. The episode fades out on the image of Severson brooding over his decision, an open ending no doubt designed to prompt viewers to consider what they would do in a similar situation. "No Hiding Place" won a citation from the Anti-Defamation League of the B'nai B'rith, and the ceremony in which a beaming Susskind accepted the award was filmed and broadcast during the February rerun of the episode.
Unlike Audrey Gellen's neophyte writers, Lampell and Sloane had no doubts about the excellence of their work and defended it fiercely against alteration. As a result, Scott's continual battles with the writing staff escalated even as the quality of the scripts increased. The most volatile confrontation occurred during the read-through of Allan E. Sloane's first (and, arguably, best) teleplay for the series, "No Wings at All." This episode told the story of a mentally retarded boy from the point of view of the child's father (Theodore Bikel), who at the climax delivers an impassioned speech to Neil Brock: "You understand how I feel? Have you lived fifteen years on a mined road – never knowing from one day to the next when something was going to blow up in your face . . . You understand – from what? Cases? Have you got a son, have you got a Georgie? Can you conceive of living your life with a child one of you has to be with every minute, with the two of you never alone except in bed – and even then you're afraid you'll make a mistake and bring another one into the world? What do you know?"
At the initial rehearsal, Scott objected to this line, claiming that in real life such a character would not say it. Susskind interceded, promising that the speech would be "fixed" – at which point an incensed Allan Sloane jumped in.
"It was about time for me to add to the brouhaha," Sloane later wrote.
I said – 'George, there is an old saying that papa knows best. And this is one of those times. For I am papa, George, and not only would the father in the story say that line, but a father did. And father knows best, George – the line stays. If you or anybody else potchkies with that line' – and I held up the script in a tearing-up mode — 'I'll yank the script starting right here. Read the line, George, read the line.'

You see, quite a few people in that room knew that I had an emotionally disturbed, autistic child. Who did or didn't, I didn't care. But David, I know, didn't. And Scott knew abso-damned-lutely nothing about me or my life as a person outside the wonderful world of television. Anyhow, George snarled, 'You don't belong behind a typewriter,' and came around his end of the table. I, in turn, went around my side of the table. About fourteen people held him back, and another two or three held me back. He would have slaughtered me. I could lick my weight in postage stamps back in those early sixties, and that's about all. But I was thinking about all the people who wrote and phoned after one of my shows was on, and all of them asked the same question: 'How did you know? It was like you lived in my house.' And that's why the line had to stay in: so that people who belong to the community of the concerned could know that someone knew, besides themselves, someone gave a damn for the different child – just as a parent's face lights up when you stop to pat a Down Syndrome kid on the head . . . . And that line went along with why the show was titled 'No Wings at All . . . .' For the butterfly, so the little verse goes, has wings of gold, the moth has wings of flame. The inchworm has no wings at all, but he gets there just the same."
During Arnold Perl's tenure on the series, East Side / West Side reached its creative peak. With Perl completing uncredited rewrites on virtually all the scripts, the episodes achieved a consistent level of quality that was missing in the earlier material developed under Gellen's hit-or-miss reign as story editor. Other strong stories supervised by Perl included "Not Bad For Openers," "Where's Harry?" and "I Before E Except After C," the latter of which was written by the African-American actor and playwright Ossie Davis. All of these segments successfully exploited East Side's ability to portray the emotional, human side of complex social issues such as ageism, delinquency, and the problems of public education.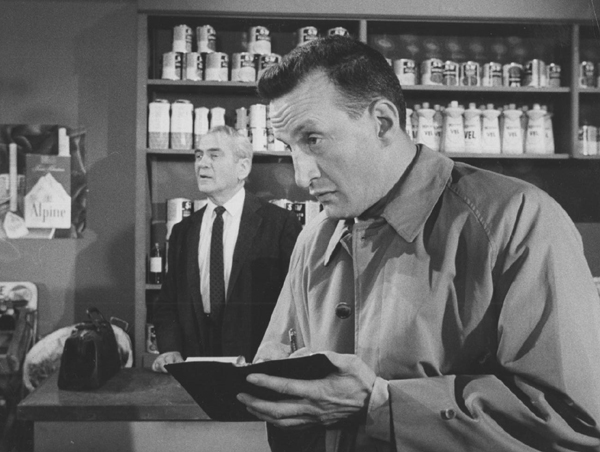 Muni Seroff and George C. Scott in the episode "Where's Harry?" Note the budget-conscious set, complete with product placement.
But luck did not favor East Side / West Side. As soon as the production team got its act together, a variety of independent factors caused the show to fall apart all over again – and for good this time.
The first casualty, sadly, was Perl himself. In addition to being responsible for shepherding usable scripts into production, the executive producer still had to deal with all the tensions of day-to-day production, including his cantankerous star. Only occasionally mollified by Larry Arrick, George C. Scott continued to fight for his own concept of the series. Edward Adler remembered an incident in which Perl bowed to CBS executives' demands that a shot of cockroaches on a wall in "Who Do You Kill?," designed to establish the squalor of the Harlem setting, be excised: "Scott wanted to see the grit and the low-down stuff, the oppressive poverty that people were living in. Arnold was trying to calm him down, saying 'We'll never get it by,' and Scott got so pissed off he just lifted him up and pushed him against a wall, and he said, 'I'll throw you out the fucking window if you say that again, if you try to calm me down.'"
Such incidents took their toll on Perl, who suffered a minor heart attack while preparing the segment "Don't Grow Old." The next Monday Perl conducted a story conference from his bed in St. Luke's Hospital, but he was forced to leave East Side / West Side – possibly due to his health, but perhaps because (as Allan Sloane believed) Susskind gave into network pressure to fire East Side's most radical voice. "Don't Grow Old," Perl's last credited episode, fell victim to bizarre production problems: James Patterson, lamely introduced as another social worker, plays the role clearly written for Scott, who turns up in only one scene. One can only assume that Scott had insisted on being written out of the rest at the last minute.

Around the same time, Paramount Pictures purchased a fifty percent share of Talent Associates, and as part of the deal Susskind's company absorbed the ambitious twenty-nine year-old executive Daniel Melnick. Melnick, an NYU graduate who in 1954 became the youngest staff producer on CBS' payroll, proved useful at running interference between the network and the show's producers, but he also introduced a corporate structure to the informal working environment at Talent Associates. "[Prior to Melnick's arrival], nobody ever had a closed door," recalled Renee Valente. "When he came in, his door was always closed; you had to go through a secretary. It was a different company."
Even those who came to respect Melnick referred to him as "Danny the Well-Dressed Melnick" or "the modern-day Sammy Glick." Many of the old guard fled midway through East Side's run as a result of disputes with Melnick; among them were Valente, Don Kranze, and associate producer Willard Levitas. Ultimately, following the twin staff shakeups surrounding Perl's departure and Melnick's arrival, Melnick and Susskind officially shared the role of executive producer. Day-to-day control of the series settled largely onto the shoulders of the sole credited producer, Larry Arrick.
More damaging than the instability resulting from the personnel changes, though, was the reception that East Side / West Side received when it premiered, in September, in its 10PM Monday night slot. Late in the evening of the country's first day back to work was a poor time period for a heavy, depressing drama, and the Nielsen ratings for the early episodes were predictably unimpressive. As the season wore on, East Side and its competition from ABC, another somber drama about psychiatrists and their patients called Breaking Point, were routinely trounced in the ratings by NBC's feel-good variety program Sing Along With Mitch.
Also, it is a myth that East Side / West Side was the object of universal critical acclaim; as with most works of art that are ahead of their time, the program met with stiff resistance from some quarters. Jack Gould of the New York Times wrote a rave, proclaiming that "the tide turned last night . . . . The show's concern, which augurs encouragingly for future weeks, was not on action for its own sake but on character delineation and examination of the moral and humane issues." Variety registered complaints about the old-fashioned melodrama simmering beneath "The Sinner"'s grim surface: "There were too many false notes, particularly in the performances. Much of it was maudlin and, for all the 'courage' of calling a prostie [prostitute] a prostie, was more soap than meat." But the trade followed its initially negative reaction with a complimentary review of "I Before E After C" four weeks later, and by the time of "Who Do You Kill?" Variety was firmly in East Side's camp: ""For the first time 'the winds of change,' marking the Negro protest movement in this country, won a dramatic outing on a network . . . . It was a tragic story and a humanizing one, an hour that should win the network and the producers deserved bouquets."
Among the detractors, Martin Williams of The Village Voice acknowledged the success of "Who Do You Kill?" but complained that most episodes were not up to its standard. "Most of the time . . . we have been offered a vague and slightly rigged debate on subjects whose essentials have eluded the participants," wrote Williams. "Sometimes these debates trail off with arty inconclusiveness, and at least one ended with fists flying outside in the alley. In short, the show usually presents the sort of quasi-sociological dabbling that will warm the heart and titillate the emotions of any socially conscious viewer without really affecting his mind or his deeper convictions." TV Guide's Cleveland Amory, perhaps the most widely-read television critic of the day, remained typically ambivalent. Amory acknowledged the good intentions behind the "boldest, bravest, and most original new series now on your screen," but proceeded to sniff that East Side was just "an underprivileged Naked City . . . a bit seamier, it seems to us, than it has to be."
Emblematic of the divided responses to East Side / West Side was the feedback from real-life social workers. Elizabeth Wilson recalled that many members of the profession identified strongly with East Side's characters, to the extent that the actors were asked to recreate their roles off the screen. Wilson said, "In an apartment that I lived in at the time there were social workers, and they went on strike. This woman came to me and said, 'I know you and George are playing social workers in this story. Would you come and picket for us?' This was the Jewish Federation of Social Workers of New York. Well, I went to George, and do you know, he said, 'I'll do it.' So one morning the two of us, with these great placards on, walked up and down in front of this building, and we broke the strike. They came and did interviews of us on the news: 'The actors playing social workers have broken the strike for the social workers.' After that they used to ask me to go and make speeches at meetings for the social workers, and I was thrilled to do it."
But other social workers took the series to task for its occasional use of artistic license. "Many of them were appalled at some of our techniques and modus operandi, and many others were appalled at me as a prototype of a social worker," George C. Scott said in a 1964 interview. "Hell, we tried patiently to explain to them that we were not making training films for social workers. I think the fact that I wear my tie loosened has shaken the very foundations of social work . . . . The letters – some of them – have been rough. 'I am a case worker and I can't see that my prototype is anything to rave about.' And: 'In addition to the program's total and gross misrepresentation of social work practive, I am also deeply concerned about the impact upon the public of the empty and ineffectual portrayal of the social worker . . . .'"
For CBS, the divided reaction to the series was particularly bad news. The network already had one expensive prestige show, The Defenders, on the air anyway, and now East Side / West Side's claim even to being its equal was uncertain. George C. Scott's response to the low ratings and mixed critical reception was inspired, if perhaps naive: he sent a letter to 100 prominent Americans urging them to view "Who Do You Kill?," and a few weeks later he took out ads in several major newspapers encouraging viewers to tune into the episode "Go Fight City Hall" (a rather talky and undistinguished choice, alas) and write to the producers with their reactions.
For Jim Aubrey, however, taking the high road was not an option. East Side / West Side, like many a ratings-challenged TV series then and now, would have to be retooled so that it might become more accessible to a wide audience. Aubrey's attempt to remodel the show provoked perhaps the most famous explosion of George C. Scott's legendary temper. David Susskind's son, Andrew, recalled the incident:
My father got a call from Jim Aubrey saying, 'I want you and George C. Scott in my office now, right away.' George had quit smoking at this time, which only made him more ornery than usual. As an oral substitute, he had taken up peeling and eating apples. And he had a fairly impressive knife that he used to carve an apple. So my father and Scott showed up in Aubrey's office, and Aubrey said, 'You know, we get this research, and it's too depressing. I want these characters out of Harlem and I want them on Park Avenue.'

Now Scott said nothing. What he did was, he sat there, and he was carving the apple, and he would slice off a chunk of it and [yank it off the knife and shove it into his mouth]. My father said, 'Jim. They're social workers. There are no social workers on Park Avenue. Their problems are in Harlem, or in Bed-Stuy, or in the rough, tough parts of the city. That's where the show is.'

Aubrey said, 'I don't give a shit. Get them out of Harlem. It's depressing. Nobody wants to see it.'

They went back and forth and [my father] said, 'Jim, we can't. You know I promised George we would really do the series and be true to it. It can't be done. We'll be a laughing stock if we begin to do Park Avenue social worker stories.'

Back and forth and back and forth. And finally Scott, who's been carving the apple, takes the knife and jams it in Aubrey's desk. The knife is going, 'Boioioioioinnnnnng,' and he says, 'The show stays where it is. Let's go, David.' And he left with the knife vibrating in Aubrey's desk. That, I think, pretty much sums up the relationship of that show with that network.
But despite Scott's show of force, the "Park Avenue" episode was in development even before East Side / West Side debuted in September. "Something For the Girls," Edward De Blasio's follow-up to "The Sinner," told the story of one Dorlee Benjamin (Diana Van Der Vlis), a wealthy socialite sentenced to perform public service after she fills her glove compartment with unpaid parking tickets. Perfectly manicured and accompanied by her cute little pet dog (who rides along in her purse), Dorlee joins Brock's office staff and tackles his paperwork with a decided lack of enthusiasm. Gradually, however, Dorlee finds a niche when the neighborhood girls start coming to her for beauty tips, and before long she is running a class in which she advises her teenaged pupils on how to create the hairdos and make the dresses that will help them attract boyfriends. The crisis in Dorlee's conversion to the cause of social work occurs when one of the girls steals her expensive dog. Losing faith in her charges, Dorlee retreats to her penthouse apartment but, predictably, by the end of the episode she has had a change of heart. The final scene shows Dorlee deliberately causing more automotive havoc, so that the traffic court will send her back to the CWS.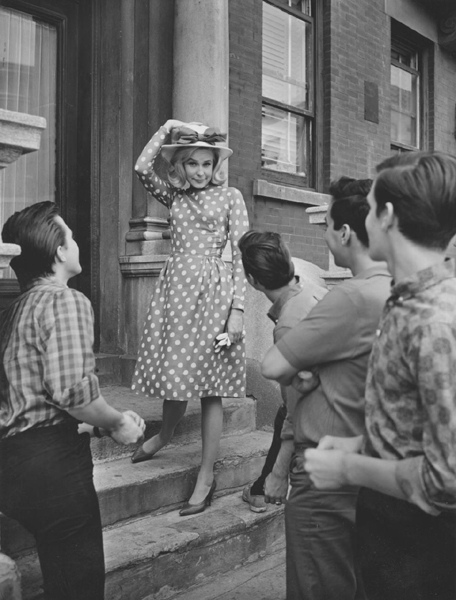 Diana Van Der Vlis in "Something For the Girls"
"Something For the Girls" was, to put it mildly, an embarrassment. George C. Scott hated the episode, which cast him in the role of comic foil for Dorlee's ostensibly zany antics. Even Ed De Blasio conceded that "Something For the Girls" was an "out-and-out piece of fluff," carved out of "the oldest plot in the world." It didn't start out that way. The episode came into being when Larry Arrick decided to base a segment on a member of the Kennedy family's headline-making incidents of public intoxication. But while the story of a wayward member of an important family could have made for serious drama, Aubrey's mandate for a lighter tone forced the series' producers to play it strictly for laughs. Seeking someone with comedic experience, the producers imported Richard Whorf from Los Angeles to direct the episode. Whorf, then the regular director on The Beverly Hillbillies, once proudly proclaimed of that show that "no one will be killed [and] no one will have a brain tumor" – very much the antithesis of East Side / West Side's outlook.
What's most disappointing about "Something For the Girls" is its unquestioning acceptance of traditional values. Blonde, fair-skinned Dorlee is presented as the ideal of beauty, in contrast to the frumpy, dark-haired teenage girls, whose Italian ethnicity is emphasized. Unexpectedly for a series that flirted with feminism in its inclusion of professional women as continuing characters, "Something For the Girls" indulges in some ridiculous gender stereotypes – scenes in which Dorlee and Brock run their respective workshops for the teenagers show the girls sewing, trying on makeup, and doing their hair, while the boys play sports. The episode glosses over the reality that Dorlee's attractiveness depends upon her ability to spend exorbitant amounts of money on her personal grooming, and that without the same capital the girls' homemade dresses and self-styled hairdos cannot hope to compare to those of their teacher. "Something For the Girls" represented a step backward less because its attempts at humor fell flat than because it betrayed the forward-thinking ideals that formed the basis of the series.
Although "Something For the Girls" was as broad as East Side's humor ever got, the show produced several other weak episodes that tried for a light-hearted flavor. Robert Van Scoyk's "The Beatnik and the Politician" offers a fairly unbiased depiction of young beatniks (though their dress and vernacular cleave closely to stereotype), but the antagonists of the piece, a corrupt ward boss and his toadying lackey, are comedic caricatures. "Creeps Live Here" tries to have it both ways, casting a moving Patricia Collinge as a forgotten old woman whose house is slated for demolition and saddling her with a cringe-inducing set of sidekicks who embody every possible ageist stereotype (one is a shotgun-toting old hermit who might as well have been played by Walter Brennan). Comic relief proved to be well outside East Side / West Side's skill set.
In addition to influencing the mood of the show as it was produced, CBS also tinkered with finished scripts and episodes that were already in the can. Aubrey engaged in what Scott termed "constant blue-pencilling of material" that might have stimulated negative responses from affiliates and viewers. "I went to the mat with them," said Larry Arrick. "Every week I had to take a call from Program Practices about that week's script. Those were some of the things that would make George very angry, and he would say, 'Fuck them, I'm going to say it anyway.' And he would, a lot of the times, and in the editing I would leave it in sometimes and take it out sometimes."
"Who Do You Kill?"'s teaser originally contained shots of the rats that would claim life of the Goodwins' baby, but these were deemed offensive and excised. ("We had the villain and we couldn't show them," Scott complained to TV Guide.) Scott's big speech in "The Beatnik and the Politician," in which Brock used sarcasm to criticize bigotry, was trimmed because it included the racial epithets "wop" and "guinea."
But the most controversial cuts smacked of racism. Hoping to avoid the affiliate problems that "Who Do You Kill?" had engendered, the network cut a scene from "No Hiding Place" in which George C. Scott and Ruby Dee danced together. The plan backfired when Scott revealed what CBS had done and publicly criticized its cowardice. What was not made public at the time, however, was CBS' undignified treatment of East Side's African-American co-star, Cicely Tyson.
If the visibility of blacks in "Who Do You Kill?" and "No Hiding Place" brought forth a stream of hate mail, then the Jane Foster character had to have been particularly galling to those in the audience who opposed any positive depiction of African Americans in the arts. Though she in fact had little to do, Jane Foster was present in almost all of the early episodes, and she was consistently shown to be competent, intelligent, and on an equal footing with her friends and at the Community Welfare Service. On those occasions when Jane was seen in action, it was invariably in a bold and positive context, as when she impugns the character of a white factory owner's racist hiring policies in "Who Do You Kill?" It wasn't just that Cicely Tyson's was a black face – African-American singer Leslie Uggams had been a regular on East Side's hit competitor, Sing Along With Mitch, since 1961 – but that her character was assertive in a way which contradicted the racist notion that blacks should "know their place" when interacting with whites.
Those opposed to Tyson's presence on the series may have constituted a minority, but they were a vocal one. "Literally, we would get bags of mail," said Larry Arrick. "If George was working late at night in a scene in the office, and he would say [to Tyson], 'Hey, I'll put you in a cab, it's late.' And she said, 'No, that's okay, the subway's just down the street, I'll be fine.' And he'd say, 'Well, at least I'll walk you to the subway' – that would be it. We would get letters about miscegenation, and race mixing. Unbelievable. And we were out of major markets in the South, because of his relationship, which was never romantic in any way. In fact, I think that's what bothered them. If it was romantic, they'd say, 'Yeah, that's what the North is like, all those blacks and whites fucking each other.' But it was that they were peers, and that was not acceptable."
Elizabeth Wilson recalled that Tyson's character was deliberately minimalized at the behest of the network higher-ups: "Cicely literally was not allowed to have much of a role; she was just there. It's such an obvious token thing. It was just outrageous. I remember how she suffered . . . . The word was out that CBS did not want her to have a role in this series." According to Arrick, the network took its position on the Jane Foster character even further: "There was a point at which we were told the show would be renewed if George would get a new secretary, i.e., white."
It is possible that David Susskind's refusal to fire Cicely Tyson outright became the crucial factor in CBS's decision to cancel East Side / West Side after its freshman season. But for all practical purposes, the issue became moot once the series underwent a drastic change in format. The nineteenth episode, "The Street," introduced the new character of Congressman Charles W. Hanson, an idealistic young politician based on New York's charismatic then-mayor John V. Lindsay. Despite his background of wealth and social prominence, Hanson is deeply committed to solving the city's problems, and in "The Street" and the episode that followed ("If Your Grandmother Had Wheels") audiences saw Neil Brock successfully enlist Hanson's aid in helping that week's clients.
Hanson was a supporting character in these two stories, which laid the groundwork for the pivotal episode "Take Sides With the Sun." In it Hanson asks Brock to leave the CWS and join his staff as an advisor on issues relating to urban social problems. "Take Sides With the Sun" then focuses on Brock's crisis of conscience as he considers joining the same system, with its bureaucracies and its corruption, that he often fought against as a social worker. Ultimately, Hanson convinces Brock that he will do greater good for more people by entering politics, an arena in which he can combat poverty and injustice on a broader scale. For the remaining six shows of the series, Brock worked as a member of Hanson's staff – still in contact with the down-and-out inhabitants of New York's streets, but spending more of his time trying to integrate his individualistic methods and red-hot temper with the more refined atmosphere of the congressman's office.
Along with Hanson came his large staff of advisors, two of whom emerged as continuing characters. Bowen Munro, played by Henderson Forsythe, was a middle-aged ex-reporter who gradually befriends Brock; by the final episode, we see them drinking together and chatting casually. The relationship between Brock and the other, more prominent new arrival proved less amicable. Mike Miller (named after ratings rival Mitch Miller?) was Hanson's slick, officious public relations consultant, and as such he represented all the oily image-consciousness that made Brock dubious about politics. Much of the conflict in the final episodes arose from the clash between Brock's blunt, in-your-face style and Miller's more subtle approach, with Hanson acting as the mediator in scripts that settled into dialectical debates. The best of the Hanson episodes, "Nothing But the Half-Truth," revolved around the explosion of the tension between the pair into an all-out feud over control of the congressman's public image. Future Broadway star John McMartin was effective as Miller, but the producers made an unfortunate choice regarding McMartin's physical appearance: with a slight gap in his teeth and wearing a pencil-thin mustache, the actor was a dead ringer for the British comedian Terry-Thomas.
"Take Sides For the Sun" also featured the actress Jessica Walter, graduating from bit parts in Naked City and on her way to leads in films like The Group and Play Misty For Me. Walter's character, that of Hanson's secretary Phyllis Dowling, seemed to be planned as a regular one, but she disappeared without explanation after a single episode – perhaps because, as one cast member recalled, Walter seemed "arrogant" and failed to mesh with the rest of the company.
Neil Brock's move into politics is a classic case of "it seemed like a good idea at the time." No one interviewed for this article will take credit for conceiving East Side's format change, although actor Linden Chiles, who played Hanson, believes that the plan originated with George C. Scott: "I think it was specifically George's idea that he go to work for a congressman, and then eventually they'd dump me, and then he would [run for office himself] and would be on his own as a politician. That was a long-range idea." The opportunities for Brock to confront these new developments in his life certainly ties in with Scott's pet idea that the character should change organically over time.
But another rationale behind the change was probably the producers' perception of the one real weakness in the basic concept of the series: the essential impotence of the protagonist. As Larry Arrick explained, "The basic flaw in the show was that here we had this dynamic and exciting actor, and he was in the job of dispensing bandaids. A social worker doesn't solve social problems; he helps somebody get to the dentist, he helps somebody keep from being thrown out of their apartment, he helps kids stay off the street. At that time, particularly with Aubrey, the whole notion of the hero was very important, somebody who changes things, a television hero. We had an actor who was fully capable of being heroic – it's like doing a John Wayne movie where he's a postal clerk. They give you your stamps and they tell you how much things weigh, but that's not the way you see John Wayne, or it isn't the way you see George C. Scott."
With the introduction of Hanson, Arrick explained, Brock "would be the man out in the field who would be able to tell this congressman what the problems are and what kind of legislation needed to be drafted and then passed, and so on and so forth. That was the idea, to make him more potent." Also, it was hoped that the series could, in Allan E. Sloane's words, "get higher numbers with a Kennedy-like hero" who would come across as more charismatic and less pessimistic than Neil Brock.
To an extent, "Take Sides With the Sun" bears out Arrick's theory. At times Allan Sloane's script grows talky, and it cheats by relying on flashbacks from earlier episodes to insert some visual drama into the scenes in which Brock, alone in his apartment, wrestles with his tough decision. But the closing confrontation between Brock and Hanson is written with remarkable intelligence, as they argue heatedly over the relative merits of their preferred methods of affecting social change. This marathon dialogue consumes the whole fourth act, and it features remarkably intense work from the two actors – undoubtedly the result of Arrick's decision to give the crew a day off and allow Scott, Chiles, and director John Berry to rehearse the scene by themselves on the soundstage.
Chiles, a Los Angeles-based actor who had just turned thirty when he was chosen over several New York natives to play Hanson, gave Scott a run for his money throughout his brief stint on East Side / West Side. "When I went in, I was underplaying the character, which is usually the way I prefer to work," said Chiles. "But David Susskind really leaned on me. He wanted me to be a real hard-driving, pushy kind of a guy. And I think what happened was, I tried to give him what he wanted, and I think I got a very angry edge out of that."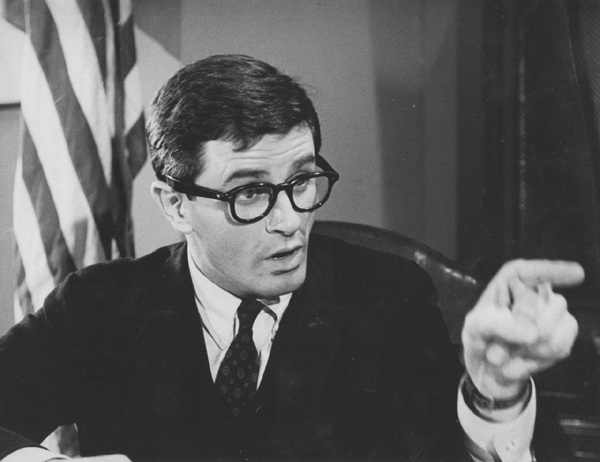 Linden Chiles as Congressman Hanson in "The Street"
But the use of Hanson and Mike Miller as foils for Neil Brock never really succeeded. Although their techniques were different, their goals remained the same, and so the conflict between the members of the congressman's staff often seemed forced. The effort to make the series more dynamic had backfired. Hanson, more clearly than Hecky, was Brock's boss, and his frequent rows with Brock often necessarily ended with the latter's capitulation or even, as in "Nothing But the Half-Truth," a rebuke from the congressman. The series' hero had become tamer, not more dynamic. With Brock spending more time in his office and less time out on the street, the series gave way entirely to its inherent tendency for talkiness. The immediacy and the real human emotion of episodes like "Who Do You Kill?" evaporated.
East Side's writers and producers quickly realized that they had led themselves into a trap. Larry Arrick felt that the last batch of episodes was "shitty." Said writer Robert Van Scoyk, "It got away from people and into politics. I think by that time they were winging it. I don't think anybody was happy about it except Linden Chiles."
In visual terms, the new format matched up perfectly with Jim Aubrey's pedestrian vision for the show. It "got them suddenly out of the streets and into the penthouses," in Van Scoyk's words. More evidence of this type of interference can be found in "The Street," the segment which introduced Congressman Hanson. Millard Lampell's script, a grim story of a teenage runaway fleeing an abusive home, also finds room for an incongruous subplot that conveys upon Neil Brock an unlikely young girlfriend, Bianca (Barbara Feldon), an actress and Village hipster type. It is a story element that can be explained only by someone's directive to glam things up, and one has to guess that frustration at having a white-knight politician and an erstwhile Holly Golightly shoehorned into his script is what led Lampell, only just liberated to use his own name again, to duck behind a pseudonym.
The format change appeased CBS in a more insidious way as well: it got rid of Cicely Tyson's character without risking a public controversy over a racially motivated dismissal of the actress. With Brock fully ensconced in his new environment and no longer involved in social work, the characters of Hecky and Jane had become extraneous. Elizabeth Wilson and Cicely Tyson do appear in one episode following "Take Sides From the Sun" ("Nothing But the Half-Truth"), but their scenes are perfunctory. Once the series had firmly launched itself in its new direction, the two actresses were quietly released from their contracts.
"They let me go, all right," remembers Elizabeth Wilson. "I was fired, baby. I think they paid [me] for the episodes; I can't even remember that. But I was terribly upset. And the excuse was, 'Well, it's not you. We're changing the format.'" Suddenly, Neil Brock's world was all-male and all-white.
Compounding the sudden shift in the series' structure was a general malaise that settled over the series' staff and cast as it became obvious that cancellation loomed. If daring subject matter was tolerated during the show's early days and welcomed during Perl's tenure, it was greeted with apathy after the addition of Congressman Hanson. The development of the transition episode, "Takes Sides With the Sun," illustrates the extent to which East Side had betrayed its progressive intentions.
The show's writer, Allan E. Sloane, felt that only a crisis more important than any Neil Brock had yet dealt with could logically motivate the character's decision to join forces with Hanson. Sloane proposed a story in which a group of militant blacks, led by a Malcolm X-type figure, blockaded Harlem and organized a city-wide strike among African-Americans. Susskind, reluctant to again stir a racial controversy, initially vetoed Sloane's outline but finally relented, telling the writer to "do it on civil rights, but for God's sake make it brilliant."
In four days Sloane hammered out a script that would have upped the ante on the series' most powerful episode thus far, one that asked (in Sloane's words) "not 'Who Do You Kill,' but 'Where do you stand?'" According to Sloane, however, George C. Scott refused to approve the script, asking "why the hell the Civil Rights thing had to come in?" Without the backing of Susskind or Melnick, who apparently didn't bother to read the script, Sloane was forced to change the pivotal issue in "Take Sides For the Sun" to a group of mothers' struggle to get a traffic light installed at a dangerous intersection! Ultimately, even this feeble angle was dropped and the "turnover show" concerned itself entirely with abstractions. In protest, Sloane fired off a lengthy memo accusing Susskind of abdicating his responsibilities as executive producer and charging that East Side / West Side was now "as phoney [sic] as a three-dollar bill."
Why would the once committed Scott and Susskind abruptly sell out the integrity of their show? In Scott's case, one senses a petulance at work, an impulse to kick down the sand castle once it became clear that it wouldn't be built his way. Susskind, on the other hand, was a pragmatist as much as a fighter, one who knew when to cut his losses and move on to the next battle with a network he could not afford to completely alienate. Crusaders do not thrive in the mass media industry.
With no one left to fight the good fight, it's no surprise that the final five East Side / West Side episodes range from mediocre to unwatchable. The nadir was "The Name of the Game," in which Scott again went missing (he had already sat out two earlier episodes), leaving the Hanson character alone to mediate a labor/management dispute that plays out as an endless array of talking heads.
The best of the Hanson shows, Robert Van Scoyk's "Nothing But the Half-Truth," turns on a clever conceit: Brock appears as Congressman Hanson's representative on a national talk show. The program, called "Open Forum," features none other than David Susskind, appearing as himself, as its moderator, and its format is identical to Susskind's real-life program Open End. Van Scoyk fashioned the "guests" on this mock talk show into hilarious parodies of frequent visitors to Open End, among them Mel Brooks and Shelley Winters (the latter played by George C. Scott's wife, the Emmy Award-winning actress Colleen Dewhurst).
"Nothing But the Half-Truth" daringly devotes its entire second and third acts to the conversation among Susskind and his four guests, but Van Scoyk makes the debate compelling by contrasting Brock's blunt attitude with the stuffy misconceptions of the ivory-tower intellectuals and Hollywood types who make up the rest of the panel. The "B" story also includes a memorable scene in which Brock grows disgusted with Miller's PR staff, which is exploiting an indigent immigrant family for photo opportunities and press releases without really solving their problems.
But the remainder of this subplot, in which Brock uses his social-work connections to line up jobs for the some of the family, is just a half-hearted throwback to the old streetwise stories. The opportunity for Brock to confront his disillusionment over his new job is missed. One gets the real sense from this episode that Brock has in fact sold out to the establishment. Van Scoyk's script backs away from that idea because, of course, it meant that the show had sold out too.

In terms of the series' fate, the quality of the last few episodes was a non-issue. CBS announced the cancellation of East Side / West Side on January 26, 1964. The official reason for the series' death, and the one maintained to this day by most of the individuals who worked on the show, was a decline in ratings and a loss of sponsorship resulting from many Southern affiliates' refusal to broadcast East Side. This explanation conveniently locates the bigotry behind the series' cancellation with backward Southern viewers, rather than with the top brass of CBS. But it doesn't hold up to close scrutiny.
As Edith Efron pointed out in a 1964 TV Guide article, East Side / West Side was dropped by no more affiliates in the South than in any other region of the country, and ultimately only six percent of the potential viewing audience had the series blacked out in their areas. It's more likely that Aubrey and his subordinates gave East Side the axe because they were caught in a no-win situation: they couldn't allow the show to remain as openly liberal as it was for fear that the voluminous hate mail would scare off sponsors, but they couldn't eliminate the hot-button elements of the series without endangering its critical cache and existing viewer loyalty. Had the show been a smash in the ratings, its controversial nature would not have been an issue. Ultimately it was just a question of numbers.
The series did score a last ironic triumph against its unsupportive network with "Here Today," the final episode. Even before the cancellation was announced, Allan E. Sloane had contrived a cynical finale for East Side / West Side. "We all knew the show was on its last legs, tipped off by the two secretaries Susskind had," Sloane recalled. "I asked David point-blank what was happening. David was very upset, his face drawn, seemed to walk around like a zombie – and David said, finally, 'I guess you'd better start thinking up a show to close the series.' I had already been doing some thinking, and told David the germ of the idea. He bought it."
On the surface a chronicle of the demise of New York's "last independent newspaper," "Here Today" is in actuality a thinly-veiled allegory for the cancellation of East Side / West Side. The story begins as Brock tries to find a publisher for a series of articles that will explore the social issues addressed by President Johnson's new War on Poverty, using Congressman Hanson's district as "an isolation ward for the problems of the whole nation." The city's leading paper, the syndicate-run Standard, turns down the articles (twelve "specific, individual areas of coverage," analogous to East Side's individual episodes) as "a weary, downbeat, depressing, pick-on-the-scab-of-society series." The Standard's editor (Walter Abel) makes no secret of preferring "sweetness and light" stories, which sell more papers.
Even the last independent paper, the Light, initially rejects Brock's idea, but its cantankerous old publisher Brian Lincoln (a fruity performance from "Grandpa Walton," Will Geer) eventually gives in to his rebellious spirit. Brock's series boosts circulation but it also alienates some important advertisers (i.e., sponsors), and as a result the Light again faces bankruptcy. The paper's last chance is a bank loan, but a bank official tells Lincoln that the paper (like East Side / West Side) will have to undergo some "minor changes" if its existence is to continue. "Minor changes?" Lincoln scoffs. "Just the editorial policy. Steer clear of anything controversial, like issues. Come out real strong against the man-eating shark, and even stronger for motherhood and the flag . . . . Turn your back on all that garbage about rats and tenements and juvenile delinquency, and let's just have some laughs." Eventually Lincoln is forced to sell out to the same syndicate that runs the Light. Brock, eyeing a huge pile of mail from supportive readers, laments that the Light's 600,000 subscribers (a large number, but apparently not large enough) will be left without a voice: "Don't they count for anything? Don't they have any say at all?"
His frustration is echoed by an unnamed janitor, whose comments could refer to the Nielsen ratings that contributed to East Side's cancellation: "They never asked me. They never asked anybody. Why should they? I'm just a lousy reader. Nobody ever asked me. Those numbers! Where do they get those numbers? Who does it, huh?" According to Allan Sloane, this character, played by Michael Dunn (The Wild Wild West's Dr. Miguelito Loveless), was written specifically for a dwarf actor so that he would represent all "the little people," or the anonymous viewers who had supported East Side during its brief run.

The most explicit connection between the plight of the Light and that of East Side / West Side comes when Brock invokes the medium's cynical nickname, linking it to Orwell. "The last word won't come until the last independent newspaper in the country is cannibalized by some chain. Murder by merger," Brock rails. "When that happens, gentlemen, we'll have one newspaper in every city in the United States. One opinion, one source of information, one enormous boob tube — somewhere around the year 1984." (Of course, this prediction of a monopolistic mainstream media, corporate-controlled and bland, has largely come true.)
The final image of "Here Today" is a powerful one in which Brock, left alone in the public toilet after hearing the janitor's plaintive remarks, gives in to his anger and shatters a bathroom mirror. The moment was improvised – and real. "The last day of the show, the last show we shot, [George C. Scott] just got incredibly drunk, and punched out a mirror in the bathroom, with his fist straight on," said Linden Chiles. "I thought he was going to completely cut his hand open." In this scene, it is hard to remember that one is watching Neil Brock and not George C. Scott, expressing his own impotent rage over the loss of a project so important to him.
The ending that Allan Sloane had first conceived for "Here Today" was even more pointed. Sloane envisioned Scott washing his hands, looking for a paper towel, finding none, and having to dry himself with toilet paper. The closing shot would have been a fade-out on Scott flushing the toilet paper, with the camera moving in on a close shot of the paper "swirling around and around" in the bowl! Finally, of course, there's the pun in the title – for viewers watching the final episode during its original network run, East Side / West Side would indeed be, quite literally, "here today, gone tomorrow."

For years following his experience with East Side / West Side, David Susskind kept two framed telegrams mounted, side by side, on the wall behind his desk at Talent Associates. One, from CBS, congratulated Susskind for receiving the National Critics Award naming East Side as the year's "best film series." The second telegram, also from CBS and bearing the same date, informed him "with deep regret" of the series' cancellation.
The awarding of the 1964 Emmys proceeded with similar irony. In March, the Los Angeles Times ran a story under the headline, "Canceled TV Show Leads in Nominations for Emmys." Mel Brooks quipped: "Do you really want me to comment on television, where they cancel East Side / West Side and still allow Petticoat Junction to keep rolling?"
As the winners were announced on the May 25 broadcast, it must have seemed as if fate were determined to deal a final blow to the now-dead series. The Defenders, CBS' other prestige entry, topped East Side / West Side as best drama series. The best teleplay award went to Ernest Kinoy for "Blacklist," a famous episode of The Defenders that was among the first public condemnations of the film industry for its role in persecuting suspected Communists during the fifties – but Kinoy defeated two East Side writers, Arnold Perl (nominated for "Who Do You Kill?") and Allan E. Sloane (honored for a Breaking Point episode), who had both been victims of the real blacklist. George C. Scott lost the best actor award to, of all people, Dick Van Dyke (at a time when comedic and dramatic actors competed in the same category), and both of the "Who Do You Kill?" guest stars, James Earl Jones and Diana Sands, went home empty-handed. Jack Priestley, nominated for his exceptional cinematography, was effectively removed from consideration by his consecutive wins in the two preceding years for his work on Naked City. East Side's single Emmy was picked up by "Who Do You Kill?" director Tom Gries, beating out "Blacklist"'s Stuart Rosenberg – the original choice to direct the episode for which Gries won!
East Side / West Side's single season on the air coincided with one of the most turbulent years in American history. During the filming of "One Drink at a Time," news of President Kennedy's assassination broke and production shut down after guest star Maureen Stapleton collapsed in tears. Earlier in the day, Don Kranze had encountered a bizarre harbinger of the tragedy to come.
"On that particular day, we were down on the Bowery, and there's a guy lying on the ground, motionless," Kranze remembered. "Someone says, 'Move him out of the shot.' I said, 'No, don't move him out of the shot, he's fine. Leave him. Why would you move him? He's there, it's beautiful, that's real.' Now they go over to this guy. He's dead. I was ashamed! I'm saying, 'Don't move him,' and actually the guy was dead. Then someone comes to the set, and says, 'John Kennedy has just been shot.'"
During the period of East Side's production, its viewers – and its creators – witnessed Martin Luther King giving his "I have a dream" speech at the March on Washington in August 1963. "I was sitting with Cicely, and we were watching Dr. King on television," recalls Elizabeth Wilson. "He started speaking, and she started crying, and she took my hand, and I've never had anybody hold my hand so hard. She just squeezed it and squeezed it. Here I am, this girl from Grand Rapids, Michigan, and white, and I sort of knew what she was [feeling], but also I didn't. I mean I could relate to it, but I couldn't relate to it." East Side captured the sort of confusion Wilson felt in the episode "Who Do You Kill?" when Neil Brock tells Joe Goodwin, "I don't know what to say to you, Joe. I don't know what anyone can say who looks like I look. What white man knows what it's like – the life of a Negro?"
With moments like that one, East Side tapped directly into the public's consciousness over troubling issues like the injustices that King brought to the country's attention. Politically, it was a series more in tune with its own times than any other has ever been. More bluntly than any other prime time series, "Who Do You Kill?" and "No Hiding Place" tackled the issue of race relations at the height of the Civil Rights movement. "Here Today" made it clear that the show had already been waging its own weekly War on Poverty before Lyndon Johnson coined the term.
East Side straddled, and reflected, both the idealism of the Kennedy era and the dawning of widespread cynicism that occurred during the remaining years of the sixties. It was an important show, and one that deserved more support and a longer run (as well as ongoing life in syndication) that it never received. And as anyone lucky enough to see East Side / West Side today will realize, the show's close connection with the politics of its day do not date it. Its best episodes remain among the most powerful dramas ever broadcast over the airwaves.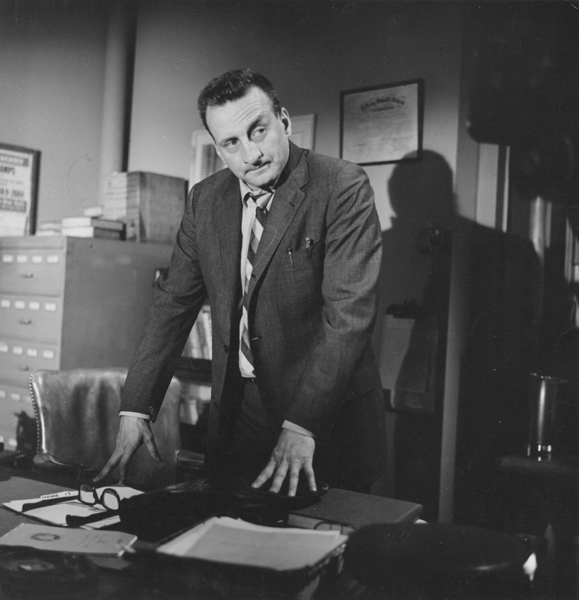 Gone but not forgotten
*
A note on revisions: This article was originally published in Television Chronicles in 1997. At the time, I had only been able to view fourteen of the twenty-six segments of East Side / West Side. Since then I have seen every episode in its entirety, learned a great deal more about the content and production of television during the fifties and sixties, and made the acquaintance of other TV veterans of that era who have changed my perceptions on certain matters (such as the Susskind-Gellen affair, which I could not confirm to an extent that I felt comfortable reporting it in the original draft). Substantial revisions have been made to incorporate this new material. I have also removed some grammatical gaffes and made other changes for clarity. My original editor, Bill Groves, quite properly cut the following epilogue due to its verbosity, but I present it here for the benefit of anyone interested in whatever happened to the major players mentioned above.
*
Following the cancellation of East Side / West Side, Talent Associates continued to develop New York-based programs at a time when almost every other television production company in Manhattan had folded. Most of them (like Mr. Broadway) were even more short-lived, but not all of the company's later projects bombed. While East Side was in production, the office next door to Arnold Perl's was occupied by a pair of young writers working on a pilot for a new sitcom. The writers were Buck Henry and Mel Brooks, and their series, overseen by Dan Melnick, became Get Smart, by far the biggest hit in Talent Associates' history.
The legendary Open End ceased production in 1966, but David Susskind's syndicated talk show remained on the air, in various formats, until his death in February 1987. Following East Side / West Side, Susskind devoted increasing attention to film production, and he had a hand in putting together All Creatures Great and Small, Lovers and Other Strangers, Martin Scorsese's Alice Doesn't Live Here Anymore, and Robert Altman's Buffalo Bill and the Indians. But his primary home remained the small screen, where Susskind's TV productions accumulated more than 20 Emmy awards.
Larry Arrick, Don Kranze, Renee Valente, and Daniel Melnick all remain active in the production end of the entertainment industry.
Audrey Gellen left Talent Associates in 1966 to realize her dream of becoming a novelist, but after her book was published she returned to work for Susskind again. Just after she finished work as an executive on the film Alice Doesn't Live Here Anymore, Gellen died suddenly of a cerebral hemorrhage. She was only forty years old.
Edward De Blasio went on to write for and produce the series Police Woman, Dynasty, and In the Heat of the Night.
Edward Adler later worked on other Talent Associates series including Mr. Broadway and NYPD.
Robert Van Scoyk spent a decade producing Murder, She Wrote before his death in 2002.
Millard Lampell won an Emmy in 1966 for Eagle in a Cage, a Susskind-produced Hallmark Hall of Fame special about Napoleon's exile on Elba, and his remarks about the blacklist in his acceptance speech made the headlines. He died in 1997.
Allan E. Sloane picked up five Emmy nominations for his post-East Side / West Side work. Of the three scripts that won the award, his favorite was the 1971 movie-of-the-week To All My Friends on Shore, which featured Bill Cosby as the father of a boy diagnosed with sickle-cell anemia. Sloane died in 2001.
Arnold Perl recovered from the heart attack he suffered during East Side / West Side and went on to co-create the cop show NYPD, a classic time capsule of New York locations and before-they-were-famous stars of the seventies, with Susskind. When a second heart attack claimed his life in 1971, Perl was working on a script about the life of Malcolm X – a script that Spike Lee later bought and refashioned into his epic 1992 biopic about the slain African-American activist. Perl thus achieved the unique distinction of having a screenwriting credit on an Oscar-nominated motion picture more than twenty years after his death.
Cicely Tyson earned an Emmy in 1974 for perhaps her most famous role, the title character in the made-for-television movie The Autobiography of Miss Jane Pittman.
Linden Chiles has never owned a television set, but he still works frequently in the medium.
Elizabeth Wilson is more in demand than ever as a character actress, in The Addams Family, Nobody's Fool, and Quiz Show, among others. Still a New Yorker, she created a memorably Shakespearean villainess in a recent episode of Law and Order: Criminal Intent.
James Aubrey was ousted from CBS in 1965, allegedly because his lowbrow programming strategies and his disdain for the network's prestigious news department had become an embarrassment to CBS chairman William Paley. In 1969 Aubrey became the head of MGM, where he initiated a notorious action that marked the symbolic finale of the Hollywood studio era; to cut costs, the studio sold off its vast storehouses of famous costumes and sets to private collectors. Aubrey died in 1994, but the stories of his epic (even for Hollywood) narcissism and womanizing still circulate.
George C. Scott's big-screen career took off during the run of East Side with the release of Stanley Kubrick's cult hit, Dr. Strangelove. Six years later he played his best and most famous role, General George S. Patton, and made headlines around the world when he refused to accept the Best Actor Oscar for Patton. When East Side / West Side was cancelled, an angry Scott hinted to TV Guide that he would never again work in the medium that had betrayed him: "I think that those quivering masses waiting for my return can relax and forget it. And those who hated my guts can relax."
Nevertheless, Scott broke this vow to appear in several prestigious made-for-television movies and specials, several of them (including an adaptation of Arthur Miller's The Crucible) produced by his old colleague David Susskind. The pair were reunited on-screen in the 1975 TV-movie Fear on Trial, the story of John Henry Faulk's successful lawsuit against Aware, Inc. Scott portrayed attorney Louis Nizer and, in a cameo appearance as himself, Susskind repeated his famous testimony that publicly exposed blacklisting practices in the television industry.
In 1991, Scott finally agreed to star in another regular series, and the event was touted as the actor's "return to television." The move was a mistake. The series, a father-and-son police show called Traps, was not greeted warmly by critics, and it lasted only a month. His last substantial roles before his death in 1999 were on television, as the ship's captain in the 1996 miniseries Titanic and in William Friedkin's remake of 12 Angry Men for cable.
*
EPISODE GUIDE with cast and production credits
Acknowledgments
The author offers his sincere gratitude to those who were interviewed for this article in 1996-1997: Eddie Adler, Larry Arrick, Linden Chiles, Ed De Blasio, Don Kranze, the late Daniel Petrie, the late George C. Scott, the late Allan E. Sloane, Andrew Susskind (and his assistant, Gayle Prezioso), Renee Valente, the late Robert Van Scoyk, and Elizabeth Wilson. Since then others involved with East Side / West Side or Talent Associates have contributed additional insights, particularly the director Ralph Senensky and the writers Abram Ginnes and Ellen Violett, and I thank them as well. Dee Grimsrud of the State Historical Society of Wisconsin was gracious enough to photocopy many relevant documents from the David Susskind papers. Stephen Hanson and Ned Comstock of the USC Cinema-Television Library offered their expertise during the research, and Tara McPherson, Katie Mills, and Mary Ann Watson provided suggestions and/or comments on early drafts.
John King, Stuart Galbraith IV, Diane Albert, and the staff of Eddie Brandt's Saturday Matinee assisted in tracking down episodes of the show at a time when they were not widely available. Bill Groves and Donovan Brandt, respectively the editor and publisher of Television Chronicles, provided a rare and all too brief platform for writers to do serious work in the area of television history. A final note of gratitude should go to the short-lived Trio cable network, which unexpectedly reran East Side / West Side in 2003-2004 for the benefit of a far wider audience than it had enjoyed at any time since its initial network run.
Copyright © 1997, 2007 Stephen W. Bowie